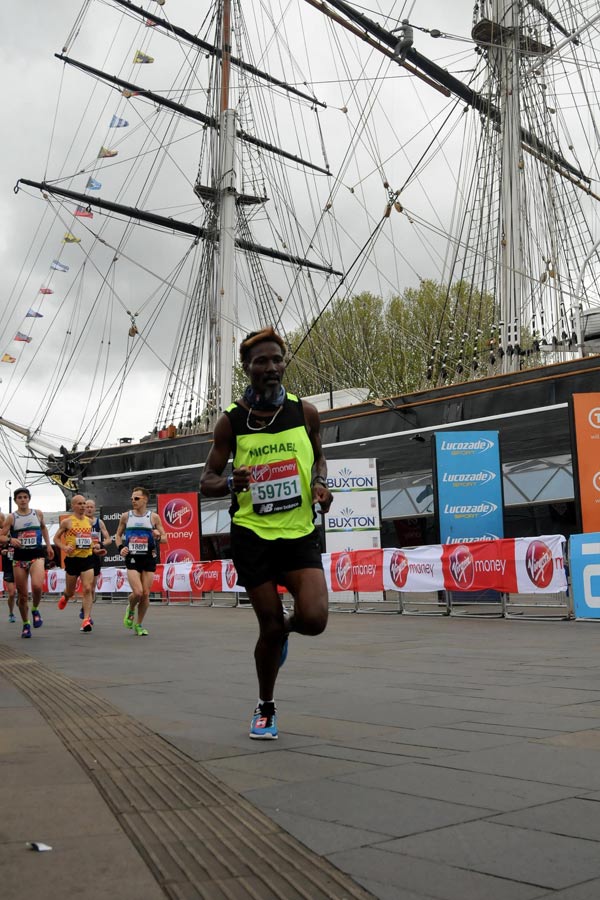 Durban – The Florida Road gardener Michael Ndlovu, 52, has achieved an astonishing result in the 39th London Virgin Money Marathon in the United Kingdom this Sunday, 26th April 2019.
Durban Gardener Achieves Astonishing Place in Elite London Marathon
South African Michael achieved a time of 2 hours, 42 minutes and 45 seconds; and has been placed 14th in his 50-54 year old age-group with an overall place of 570 in the largest and most prestigious marathon in the world with over 40'000 runners.
The winner of the men's race was Kenyan Eliud Kipchoge, the worlds most decorated marathon runner, who not only won for a record fourth time, but set a new London Marathon record achieving the second fastest marathon time ever, at a punishing 2 hours, 2 minutes and 37 seconds.
Michael's lifelong ambition to run an international marathon was made possible by his employers Urban Lime Properties, specialists in commercial property urban-regeneration. The company, employs Michael as a Groundsman on their Florida Road properties and teamed up with a UK charity Fields in Trust, dedicated to preserving green areas for public use to secure a much sought after place in the marathon.
An overwhelmed, but jubilant Michael was greeted at the finish line by Urban Lime CEO Jonny Friedman said, "My Zulu headband brings me luck when I run; it was a good race, but it is cold, I miss Durban weather."
Jonny Friedman, CEO of Urban Lime said "Michael did South Africa and Durban proud today, coming 14th in his group, in the most elite marathon in the world. What a true champion. This entire experience has been quite challenging for him but his humble determination shines through and his result today is a true reflection of his extraordinary character. We are all so proud to be able to make his dream come true."
Michael lands back in Durban this Wednesday 1st of May and says, "No rest, I start training for the Comrades when I land."
MARATHON FACTS
* Some 444,168 people applied in the ballot for a place, 7.3% more than last year, and 56,398 were successful with just over 40,000 runners taking part.
* 44% of the applicants were women and more than half of all runners have never taken part in a marathon race before
* The event's Charity of the Year 2019 is Dementia Revolution, a partnership between Alzheimer's Society and Alzheimer's Research. Its fundraising target is £3.5 million (almost 65 million ZAR)