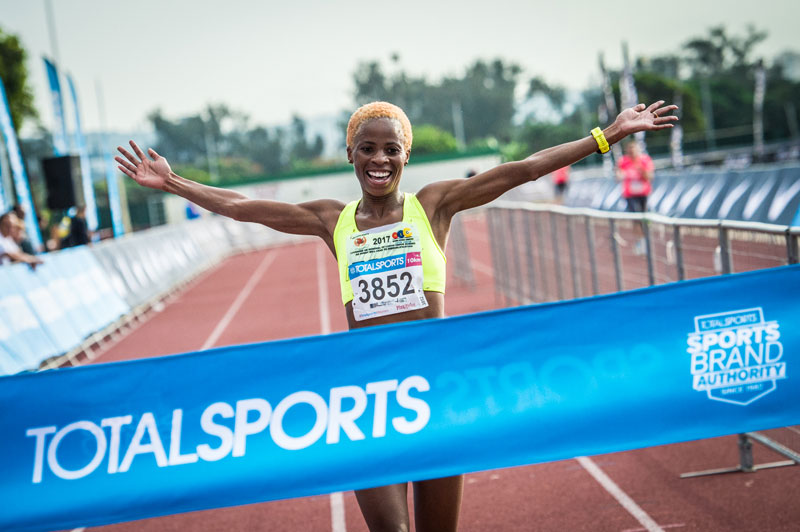 Totalsports Women's Race – South African middle and long-distance runner, Mapaseka Makhanya, returned to her winning ways in Durban on Sunday, 16 July 2017 when she showed her competitors a clean pair of heels in the 10km Totalsports Women's Race at the Kings Park Athletics Track.
Makhanya claims gold at Totalsports Women's Race Durban debut
Making her Totalsports Womens' Race Durban debut on the day, the Nike sponsored athlete made light work of the 10km route crossing the finish line first in 34:30. "I love supporting Women's events," says a delighted Makhanya. "My goal was to use the Totalsports Women's Race as a time trial for the upcoming Marathon World Championships. I ran with two other runners for the first 3km, after which I was on my own. The wind was really strong on the section of the route that ran parallel to the beach. Running alone on this section was hard and resulted in a slower finishing time than I had hoped for."
"The Totalsports Women's Race is a lovely race," continues Makhanya. "The support is amazing, the organisation is great and the route is stunning. Crossing the finish line first today was a great achievement. I'm excited to be back to my winning ways especially in a 10km race. I definitely want to come back next year."Lebogang Phalula claimed the second spot on the podium, with Loveness Madziva finishing third.
The 2017 Totalsports Women's Race boasts an impressive combined prize purse of R123 600 for Durban, Johannesburg and Cape Town.
This year the event encourages entrants to 'Run For Life' in support of Pink Drive, a Non-Profit Company (NPC) that is committed to improving breast cancer awareness, education, and providing and offering free services to the medically uninsured across South Africa.
Totalsports WOMEN's RACE RESULTS – TOP 10
Event: Totalsports Women's Race Durban
Distance: 10km
Date: Sunday, 16 July 2017
Venue:Kings Park Athletics Track
1 Mapaseka Makhanya 00:34:30, 2 Lebogang Phalula 00:35:33, 3 LovenessMadziva 00:36:32, 4 Nwabisa Mjoli 00:37:30, 5 Makhosi Mhlongo 00:37:48, 6 Sanelisiwe Mbanjwa 00:38:48, 7 Nomcebo Mthethwa 00:39:48, 8 Shani Silver 00:40:16, 9 Puseletso Dldla 00:40:44, 10 Lisha Van Onselen 00:40:48
Next Up: The Totalsports Women's Race will head to Johannesburg and Cape Town on National Women's Day.
Date: Wednesday, 09 August 2017
Venue: Johannesburg: Mary Fitzgerald Square, Newtown
Cape Town: Grand Parade, Cape Town CBD
Entry Fee: 10km licensed runner/ R120,00
5km: R80,00
10km unlicensed runner/ R140.00 (temporary license included)
Each entrant will receive a magnificent fitted Nike t-shirt, an exclusive finisher's bracelet, on-route entertainment and an exhilarating live performance by a well-known South African artist.