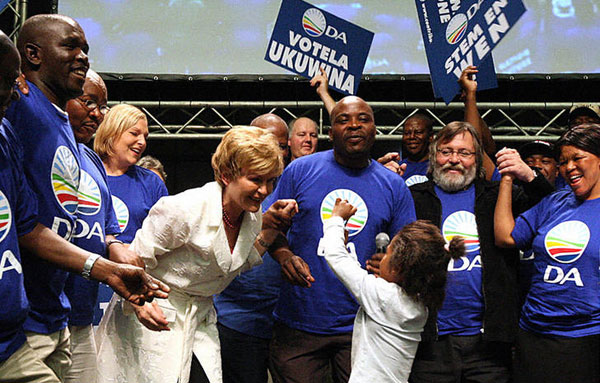 As preliminary election results show a landslide victory for the Democratic Alliance (DA) in the Western Cape, its rival the ANC, has conceded defeat in that province, with the party saying it could have done more to win the hotly contested province.
The latest results from the IEC National Results Operations Centre show the DA was leading with over a million votes, while the ANC was trailing behind with more than 580 000 votes. The figures put the DA firmly in charge of the province, which they snatched from the ANC in 2009. Indications are that in the Western Cape, the DA will win with 57.2% and the ANC 34.2%.
"We could have done better in the Western Cape but we are happy with what we have achieved there. The DA was ahead of us even during campaigning," Gauteng Premier Nomvula Mokonyane said on Thursday.
With counting at 98 percent complete in the Western Cape, the DA will become government in that province for the next five years.
But in Gauteng, Premier Mokonyane said the ANC was preparing for victory. Results show that the party looks set to win South Africa's economic hub and just before 3pm, the ANC had garnered close to 500 000 votes compared to the DA's 218 000.  In Gauteng, the ANC is projected to win 56.3% of the provincial vote and the DA 29.1%.
"We are predicting a victory in Gauteng. This is the most advanced province when it comes to political dynamics, which is good for the country. Gauteng is here for keeps, it will take many generations for the DA to take Gauteng," Premier Mokonyane boasted.
Meanwhile, new entrants on the political scene, the Economic Freedom Fighters will replace COPE as the third largest party in Gauteng, having attracted more than 70 000 voters in the province so far.
As of 3pm, the following provincial results were on display on the results board:
Western Cape:    DA (1058 518) ANC (581 322) EFF (35 758)
Gauteng:             ANC (488 718) DA (218 360) EFF (71 015) COPE (4272)
Free State:          ANC (335 101) DA (60 328) EFF (38 149) COPE (8009)
KwaZulu-Natal:    ANC (1 085 328) IFP (231 448) DA (149 040)
Eastern Cape:     ANC (1082 250) DA (206 089) EFF (48 403) COPE (17 284)
The predicted voter turnout is 72%, three percentage points lower than in the last national election in 2009. – SAnews.gov.za