On 10 May 2011 a musician described by the Johannesburg newspaper The Star as "The most visible, hardest working younger man in jazz" died of a stroke at the age of 52. A bitter loss to serious music lovers in South Africa.
Born on 25 December 1959 Zim Ngqawana was the youngest of five children. He was born in the Eastern Cape city of Port Elizabeth. He began playing flute at the age of 21 and his ability was such that he was able to gain entrance to Rhodes University in Grahamstown in spite of having dropped out of school before passing matric.
He went on to study with Darius Brubeck at the University of Natal's Centre for Jazz and Popular Music in Durban, kwaZulu-Natal, where he played in the Centre's group the Jazzanians.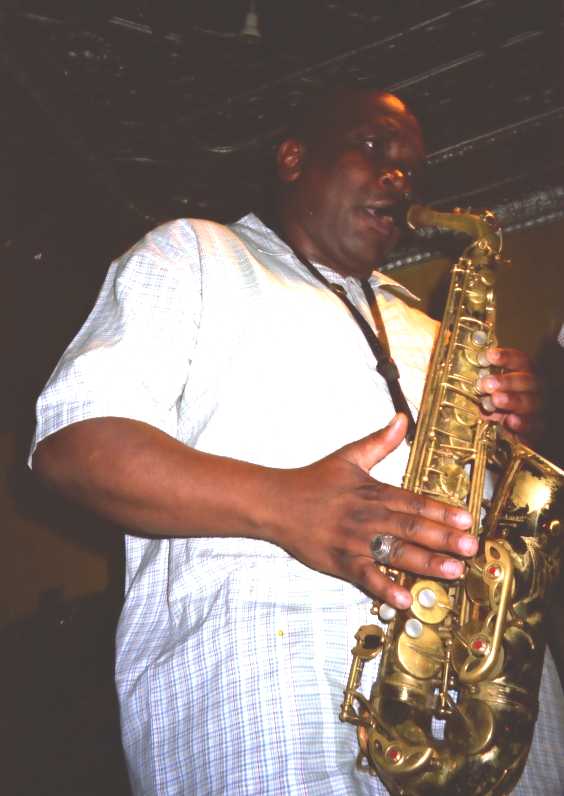 While still associated with the Centre he attended the International Association of Jazz Educators Convention in the United States. Here he was offered scholarships to study with the Max Roach and Wynton Marsalis Jazz Workshop and later with Archie Shepp and Yusuf Lateef at the University of Massachusetts.
After returning to South Africa in the early 1990s Zim began to work extensively with local musicians while maintaining his international links and touring Europe and the United States from time to time.
His recording reveal the intensity of his commitment to the music as well as his constant exploration around the limits, his chafing at restraints on creativity.
Discography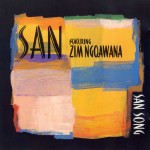 His earliest appearance on  an album as featured artist was on the Norwegian-South African collaboration San Song, and album recorded in 1996 with the Norwegian group of Bjorn Ole Solberg called "San" – Bjorn Ole and Zim had met in 1994 and shared many musical ideas.
This album also featured the pianist who would be Zim's favourite for many years, Andile Yenana.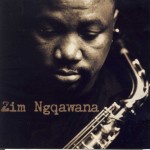 The next album was the 1998 Zimology which continued the Norwegian collaboration by including Ingebrigt Håker Flaten on bass and Paal Nilssen-Love on drums. Andile Yenana again held down the piano stool.
On this album Zim introduced a number that would feature quite a few times on later albums, the wonderful "Qula Kwedini".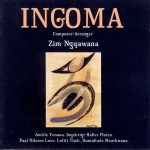 In 1999 came the wonderful Ingoma (Song), again featuring the Norwegians Flaten and Nilssen-Love, adding trumpeter Dumakude Msuthwane and poet/artist Lefifi Tladi into the mix. And it is a rather heady mix. As the cover notes state, "Ingoma traverses ethnic cubicles – Lefifi blends Setswana and Sepedi and fuses them into a beyond 2000 language…" The music aims to complement the poetry (or does the poetry complement the music?) by reaching for nothing less than "The sound of the universe."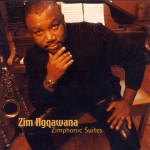 In 2001 came Zimphonic Suites, an ambitious project which sought to further incarnate the Zimology philosophy which Zim was propounding: "Artists are not only artisans, they are primarily creative thinkers." (From the liner notes). The music sprang from ideas as diverse as the place of music in the lives of world leaders, the duality of life, relations between men and women, and globalisation – to name a few! As Zim wrote:"The seen and the unseen; the known and the unknown; the possible and impossible; the duality of life, the balance, equilibrium."
This album also introduced bassist Herbie Tsoaeli and drummer Kevin Gibson in the context of Zim's quartet. (On a more personal note, my daughter Sarah was assistant sound engineer to Peter Pearlman who was in charge of the sound engineering for this album).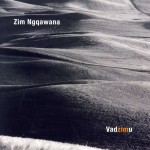 Zimphonic Suites was followed by the amazing Vadzimu in 2003. Packed with more cross-cultural references and emotional intensity this is a wonderful album and an important one in the South African jazz discography. It features a larger outfit than the earlier albums but still features Yenana and Tsoaeli. The drum kits are managed by Kesivan Naidoo and Lulu Gontsana (now also sadly departed). The brass section features Marcus Wyatt on trumpet and Bheki Mbatha on trombone. Guesting on the session were unusual instrumentalists Merle Thomson on harp and Elizabeth Rennie on viola. There is also a drum choir with congas and four djembes.
In keeping with the broader canvass offered by the bigger group this album goes all the way from sangoma-like chants to passages which could have been played by Charlie Haden's Liberation Music Orchestra. Quite fascinating indeed.
The next two albums are from 2007 and 2008, although the latter was actually recorded in 2003.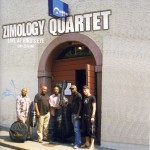 Live at the Bird's Eye is as far as I know the last recording by the Zimology Quartet featuring Tsoaeli on bass and newcomers (to Zimology, at least) Ayanda Sikade on drums and Nduduza Makhathini on piano. It is an exciting and moving live concert recorded at Basel's Bird's Eye Jazz Club in April 2007. Perhaps the pick of the 10 great tracks is the first, Makhathini's arrangement of Mongo Santamaria's "Afro Blue".
In 2003 Zim was invited to be "artist in residence" for the Africa semester of the University of Tennessee. While there he worked with keyboardist Donald Brown, guitarist Mark Boling, drummer Keith Brown and bassist Rusty Holloway.
This album, Zimology in Concert (USA) is a stunning reflection of the richness of cultural exchange done honestly and authentically. Although released in 2008 the concert was actually recorded in 2003 during Zim's artist in residency. As Zim wrote in the liner notes, "I have always believed that the spirituals – gospel, blues, jazz, stride, maskanda, marabi, funk, mbaqanga, salsa, latin – have the same roots and one day all will meet. They finally met at this concert!" All the compositions, bar one (Ellington's "In a Sentimental Mood") are by Zim and yet the USA musicians get right into his music, bringing their own takes and enlivening the performances with their own "colourful biographies" (to use Zim's words about them). This is a double disc album of great interest and listening pleasure.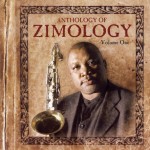 In 2009 another live double CD was released, called Anthology of Zimology Volume One. Recorded live in Heidelberg, Germany, during a tour in 2008 by the Zimology Quartet. It is a hard-hitting album with some really serious music, including some old Zim favourites like "Qula Kwedini" and "Amagoduka", with some wonderful new songs (on record anyway) like "Spiritual Suite" and "Bureaucracy".  The personnel on this album is made up of Ayanda Sikade making sure the rhythms are heard from the drumkit; Nduduzo Makhathini laying down some amazing grooves from the keyboard; and Shane Cooper adding a deep melodic bass line to emphasise the harmonies. Sadly Volume Two will never be heard, at least on earth.
Appreciation
In the sometimes difficult environment of South African jazz where egos and pride often cause tension, amplified by the struggle for a living, Zim always to me stood as a strong and individual person relatively untouched by such things.
He was one who very consciously pushed boundaries of music and made music of great integrity and emotional power, yet always strongly tied to African roots of rhythm and harmony. He did not play "outside" just for the sake of appearing avant garde, but for the sake of the music.
Zim was convinced of the spiritual aspect of music which he saw as much more than entertainment, and yet he wanted to entertain too.
I feel privileged indeed to have known him and to have shared in the experience of his music as a listener. It was always an uplifting experience. I think these recordings, for all the inadquacy of recordings, give an insight into a brilliant mind and a wonderful musician.
In her brilliant book Soweto Blues (Continuum, 2004) jazz journalist and educator Gwen Ansell quoted these words from Zim which crystallize his understanding and show the depth of his thought:
"Music isn't just notes. Every note has a social meaning. I'm singing my mother's knowledge of the plants that grew around her; my father's religion; the African transformation that we need."
The last time I saw Zim was at his Zimology Institute south of Johannesburg. It had just been vandalised for the second time in a few years – the piano's legs were missing, windows broken, mess everywhere. And Zim, broad and strong, showing me around the place, told me how he had hopes for that place, to grow food organically, to provide a space for musicians and other artists to come and in peace exercise and grow their talents. In his music and in his intellect he was the transformation we need. I just hope we can live up to his greatness.
© Text and photos copyright Tony McGregor 2011