The players on the date
"The beginning of something too new to invite easy description" – that's how jazz critic Rob Mariani recalls pianist Bill Evans' debut at New York's Village Vanguard in the early 1960s. He might have been describing Evans'1959 album, A Portrait in Jazz, recorded almost at the end of jazz's most amazing year, a year which saw the recording of many albums which have become "classics" of jazz.
Evans went into a studio on 28 December 1959 under the direction of producer Orrin Keepnews, with young bassist Scott LaFaro and drummer Paul Motian to lay down 11 tracks of a new way for a jazz piano trio to play and sound.
Evans himself was an almost painfully shy young man of 30 who was battling some internal demons, partly the result of being the only white musician in the Miles Davis sextet, which in fact he had left to follow his own dreams just more than a year before. Earlier in 1959 Davis had hired Evans to return to the sextet just to record that other classic 1959 album Kind of Blue.
Scott LaFaro, a young musician born in Newark, New Jersey, was only 23 at the time of Portrait in Jazz,and was already making a name for himself, having played with Chet Baker, Buddy De Franco, Sonny Rollins, Harold Land and Hampton Hawes. Earlier in 1959 he also played with Thelonius Monk, and would go on in 1960 to join Ornette Coleman in the ground-breaking double quartet album Free Jazz with Charlie Haden on the other bass.
Paul Motian, then a 28-year-old drummer from Providence, Rhode Island, is a drummer of great sensitivity with a very distinctive style, who nevertheless was capable of providing superb backing to a wide range of musicians besides Evans: he played with Charlie Haden's Liberation Music Orchestra, with Oscar Pettiford, Lennie Tristano and Zoot Sims, and even recorded with Arlo Guthrie.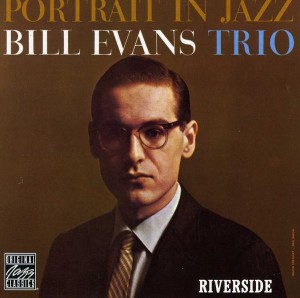 Bill Evans himself was also, like LaFaro, a New Jersey native, born in Plainfield in 1929, to a Rusyn mother and an alcoholic father of Welsh extraction. His mother was herself an amateur musician who encouraged young Bill to study the modern classical composers. I wonder to what extent Evans' sometimes melancholic sound is the result of the influence of these two cultures on him? The
Rusyn people are an eastern Slavic ethnic group who have always been overshadowed by the other people with whom they shared living space, the Poles, the Russians and the Slovaks. The Welsh are Celts with their own history of struggling for identity. Another famous person with a Rusyn background is artist Andy Warhol (Warhola), born just a year before Evans, in Pittsburgh PA.
So it was a highly talented and individual group of musicians who went into that studio. And the music they left on the tapes was similarly individual and new. Davis, in his autobiography, said of Evans' piano playing, "The way he approached it, the sound he got was like crystal notes or sparkling water cascading down from some clear waterfall."
Track 1: Come Rain or Come Shine
The tracks the trio laid down in the studio that day were all standards except for two compositions by Evans, namely "Peri's Scope" and the song attributed also to Davis, "Blue in Green", which the Davis sextet had recorded earlier in the year on the album Kind of Blue.
The first track on the album is Harold Arlen tune "Come Rain or Come Shine", the Johnny Mercer lyrics of which were sung so wonderfully by Billie Holiday. It was written for the show St Louis Woman and was published and recorded several times in 1946, and in the years following. In this trio's hands it is a beautifully thoughtful ballad in which the playing of LaFaro takes the tune to new heights. The whole track feels indeed "High as a mountain and deep as a river" with delicate harmonies from both the piano and the bass, underscored by the beautiful brushwork of Motian who keeps the whole thing moving gently along.
Tracks 2 & 3: Autumn Leaves
The second (in stereo) and third (mono) tracks feature the ever-green (to coin a phrase!) "Autumn Leaves" written, originally as "Les feuilles mortes" by Joseph Kosma in 1945, to which Johnny Mercer added English lyrics in 1947. The interplay between piano and bass in the opening few bars is delicious beyond words. The trio play the song mid-tempo rather than the more usual slow pace, which helps it avoid the kind of mawkishness it sometimes achieves in certain hands. The way the three members of the trio interchange ideas all through the track is just exquisite. I am never sure who is leading whom, they all come across so strongly and with such conviction. A beautiful number indeed.
Track 4: Witchcraft
Track 4 is the Cy Coleman song taken to great heights by Frank Sinatra in 1957, "Witchcraft". Listen out for LaFaro's incredible solo. It's a virtuoso performance from a young bassist just getting into his stride, and what a stride it is! In fact LaFaro pretty much dominates this track, with some really brilliant playing and thoughtful phrases that just jump out at the listener. He goes with such ease from the bottom register of his instrument to very high flights of melodic invention at the top end of the ergister without for one moment losing the momentum of the piece, in fact propelling it along at a good pace, keeping it swinging all the way. A grand example of the art of the bass.
Track 5: When I Fall In Love
The next track features Victor Young's "When I Fall in Love" made into a hit in 1952 by Doris Day, with words by Edward Heyman. The song was written for the 1952 movie One Minute to Zero, in which it featured as an instumental. It has since become a very popular standard for jazz musicians from the likes of Miles Davis to Toots Thielemans. This trio takes it very slowly and ruminatively, a seemingly deliberate contrast to the "restless world like this is" of the lyrics.
Track 6: Peri's Scope
On the next track the trio gets back into swinging mood with Evans' own song "Peri's Scope." with Evans creating a very interesting series of melodic variations in the right hand with strong comping in the left. And as high as Evans takes the melody, LaFaro is right there with him, never losing a beat or getting left behind for one second by the piano's flights. Motian puts rhythmic emphases in exactly the right spots to keep the whole thing together.
Track 7: What Is This Thing Called Love
The next track is a song of the same vintage an Evans himself, Cole Porter's 1929 song "What Is This Thing Called Love?" The trio make this into a wonderful up-tempo romp after a slightly quiet start which is quickly blown away by the harmonic inventiveness of Evans and LaFaro and the solid rhythm supplied by Motian. In fact, in my view, this is Motian's track. A lovely solo by LaFaro is followed by an exciting yet solid drum solo, all too short in my view. But Motian really shines all through the track as he keeps his partners to the rhythm. An interesting note about this tune is that it has been reinterpreted many times by jazz musicians, and sometimes transformed into new pieces. For example, Tadd Dameron based his great tune "Hot House" which Charlie Parker played so wonderfully, on "What is This Thing Called Love," and John Coltrane based his great tune "Fifth House" on "Hot House."
Track 8: Spring is Here
The next track opens with a beautiful singing note by Evans which became the subject of a whole page of analysis by Peter Pettinger in his book on Evans, How My Heart Sings. The song in this case is the 1938 Richard Rodgers composition which Alec Wilder called "a shattering ballad", "Spring is Here." The song was written for a broadway musical I Married an Angel and was in fact the second song Rodgers and his partner Lorenz Hart had written with that title. The first was an upbeat song written in 1929 and quickly forgotten. In the trio's hands this is a brilliant exposition in notes of the melancholy of the words:
"Spring is here!
Why doesn't my heart go dancing ?
Spring is here!
Why isn't the waltz entrancing?"
The song ends with a gently cascading rain of notes from Evans, reflecting a feeling, the irony, of the last line of the song: "Spring is here I hear."
Track 9: One Day My Prince Will Come
Next up is another popular jazz standard, from the calssic Walt Disney movie Snow White and the Seven Dwarves of 1937. The song was written by Frank E. Churchill with lyrics by Larry Morey. One of the moist famous jazz recordings is the 1961 version by Miles on his eponymously-named album. The Evans trio show their melodic and rhythmic virtuosity in this number, which again features a glorious LaFaro solo.
Tracks 10 & 11: Blue in Green
The last two tracks are of the Davis/Evans tune "Blue in Green"which Evans had recorded with Davis earlier in 1959. This tune has been the subject of speculation about who really wrote it for decades now. According to Ashley Kahn ( Kind of Blue, The Making of the Miles Davis Masterpiece, 2000) Evans told the story: "One day at Miles's apartment, he wrote on some manuscript paper the symbols for G-minor and A-augmented. And he said, 'What would you do with that?' I didn't really know, but I went home and wrote 'Blue in Green.'" On Kind of Blue the song is attributed to Davis alone,while on Portrait it is attibuted to Davis/Evans. Is it that important who wrote it? It's a wonderful tune with great moments for all three of the musicians on this album.
Epilogue
Overall, this is an album worth savouring. It bears repeated listening. Indeed, listening to it over and over again as I have done over the past few days, it reveals new subtleties and nuances every time. There are many critics who dismiss this album, and indeed much of Evans' playing, as little more than good quality cocktail lounge music. I would strongly disagree with that assessment. There is lyricism and harmony a-plenty, but the rhythmic and harmonic subtleties and the way the tracks are structured lift this album way above cocktail music. The interplay between the musicians is always a delight, and each time I have listened to this album I have found new delights. Jazz piano trios would never sound the same again, and pianists, bass players and drummers all can learn from the playing on this rich and deep album.