Leadership development
The three albums discussed in this article represent bassist Charles Mingus growing in stature as bass player, composer and band leader. On the first album he becomes leader almost by default as the two who were meant to lead the outfit which has come to be known as "The Quintet", Charlie Parker and Bud Powell, were not able to function properly as leaders due to various personal issues. Mingus took over the role and did his best to protect the interests of all the musicians involved.
The next two albums show Mingus taking over leadership and really getting, so to say, into the swing of it. The Bohemia albums are live dates originally released, as was Jazz at Massey Hall , on the label that Mingus and Max Roach formed, called Debut.
Pithecanthropus was an Atlantic album and was the start of Mingus's productive relationship with producer Nesuhi Ertegun.
Jazz at Massey Hall
This great album was one of my earliest exposures to this wonderful music usually called jazz. My brother Chris brought home from university a copy of a 10-inch LP of the concert (I imagine it was the original Debut release) which had been put on by the Toronto, Canada, New Jazz Society on 15 May 1953. Being about 12 at the time what got me fired up at the time was Max Roach's amazing solo in the Dizzy Gillespie number "Salt Peanuts." It was just a blast for me and I couldn't get enough of it.
Besides Roach and Gillespie the other musicians are, of course, Mingus, who completes the rock-solid rhythm section with Bud Powell on piano and the incomparable Charlie Parker (who, for contractual reasons, was credited on the album as "Charlie Chan") on alto. A veritable feast of bop super-stars!
By this time, as C. Michael Bailey has written on the internet jazz magazine AllAboutJazz, bop "had fully matured and was settling in as the established mainstream rather than the cutting edge movement it had been in the early 1940s." But on this night of jazz, bop, "in all of its brilliant invention was alive, well, and in charge."
Over the years my appreciation for this album has grown, and I think around in particular two of the pieces on it (not that the others aren't great – just these are my particular favourites), namely Ellington's "Perdido" and Jerome Kern's wonderful 1939 song "All the Things You Are."
"Perdido" gets off to flying start which doesn't let up, the only slight tentativeness is at the beginning of Parker's solo which is not surprising seeing he was playing an unfamiliar borrowed instrument, and a plastic one at that! Gillespie's solo is just stratospheric, both in register and virtuosity.
"All the Things You Are" is a lovely tune to start with and these musicians give it a wonderful feel, as is to be expected. What appeals to me the most is what Powell does behind the other musicians – just gorgeous comping with the occasional melodic comment on what a soloist is doing. Mingus is also so solid there. Altogether entrancing music from a group of masters – almost eight minutes of pure heaven!
The other tracks on the album are Gillespie's "A Night in Tunisia" and "Salt Peanuts"; and Tadd Dameron's "Wee" and "Hot House".
To quote Bailey again, this album is a "testament", "The elder statesmen of Be Bop stood on the bandstand and gave the next generation of jazz musicians a lesson in performing Modern Jazz and from that performance came everything else we hear today."
This 1955 album has Mingus in the leader's role and how firmly he does it! Other musicians on this live date at New York City's Café Bohemia are Eddie Bert on trombone, George Barrow on tenor, Mal Waldron on piano and Willie Jones on drums ( Max Roach joins the group only on the tracks "Drums", a Mingus composition, and "I'll Remember April").
Of the six tracks on this album I will write about only three here.
The first is Mingus's "Haitian Fight Song" which he opens with an eight-bar bass solo which sets the swinging mood of the whole number, before George Barrow's tenor comes in. He takes a couple of choruses and then lets Mal Waldron on piano take over with the horns giving support in the background over Mingus's driving, walking bass line. Then its the turn of Eddie Bert on trombone before Mingus comes back with a solo mostly in the lower register of his instrument with a few flights up to the higher end, then the ensemble led by Barrow takes it out.
The next track is that lovely ballad by Gene De Paul, Pat Johnston and Don Raye, "I'll Remember April" which Mingus introduces with some interesting bass sounds before Barrow takes over. The ensemble plays it somewhat up-tempo and very swinging. The bridge has some intriguing contrapuntal exchanges between Barrow and Bert. Halfway through the track there is some interesting trading of fours between Roach, Barrow and Bert before Roach gets his turn to solo, and its a very eloquent solo too, very typical of the man's style!
Waldron sets up Mingus's "Love Chant" with some rolling chords which he keeps going as Bert takes over with Barrow coming in to join the three in some intricate interplay. Again the contrapuntal figures from Barrow and Bert set up some dissonant chords before they set off again playing catch up with each other. Thereafter Barrow gets down to some serious swinging soloing with bass and drums giving strong support. Bert gets another chance before the whole swinging affair comes to a glorious end. Willie Jones's contributions are particularly interesting as the song ends.
The other tracks on the album are Gershwin's "A Foggy Day" and Tadd Dameron's "Lady Bird."
Pithecanthropus Erectus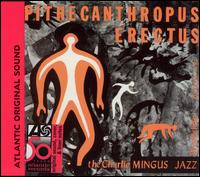 This four-track album was recorded in 1956 at the Atlantic Studios in New York City and produced by Nesuhi Ertegun. The band supporting Mingus consisted of Jackie McLean on alto, J.R. Monterose on tenor, Mal Waldron on piano and Willie Jones on drums.
The tracks on the album were three Mingus numbers and Gershwin's "A Foggy Day". The Mingus compositions were "Pithecanthropus Erectus", "Profile of Jackie" and "Love Chant".
Mingus described the title track as a "tone poem" about the rise of humanity, from the earliest hominids until the eventual demise of humankind. The name of the track can be seen as a play on Mingus's instrument, the upright bass, as the Latin means "Upright Ape-man".
Most critics rate Pithecanthropus Erectus as one of Mingus's greatest albums.