The album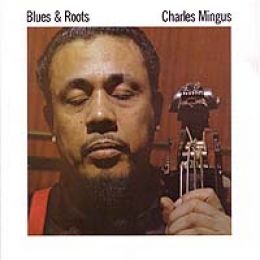 On 4 February 1959 bassist Charles Mingus took a group of top class jazz musicians into the Atlantic Records studio to record a "barrage of soul music: churchy, blues, swinging, earthy" to quote his own words, and the result is the magnificent Blues and Roots, an album which gets me shouting and moaning myself whenever I listen to it (which, I have to admit, is quite often!).
From the opening moments of the first track, "Wednesday Night Prayer Meeting", this album is just full of swinging, engaging and earthy jazz with its blues and holiness church roots exposed.
The musicians Mingus assembled for this date were each impressive in their own rights – John Handy and the inimitable Jackie McLean on altos, the soulful Booker Ervin on tenor, Pepper "The Knife" Adams on baritone, Jimmy Knepper and Willie Dennis on trombone, with Mingus' favourite drummer Danny Richmond and pianists Horace Parlan and Mal Waldron (who only appears on one track) completing the rhythm section.
The tracks
"Wednesday Night Prayer Meeting" starts with "preacher" Mingus setting the tone with some big bass sounds and he's soon joined by the "congregation" getting right down to it – with some interesting interchanges between reeds and trombone before the swinging, blue-based piano of Parlan starts some preaching of his own. This becomes a wonderful rhythmic interchange between Mingus and Parlan, with Mingus shouting his encouragement behind the music. Parlan keeps a chord pattern going behind the tenor preacher and Mingus and the rest shouting their responses – I think anyone with any soul in them will join in also while listening to this track! Then Richmond gets to add his few bars worth of rhythm before the whole congregation brings it all to an end with a heartfelt "Amen!"
The next track, "Cryin' Blues", is noteworthy for the relatively long bass solo from the leader, who quotes from other blues, especially "Blues in the Night" before Parlan gets in on the act with a beautifully-phrased, blues-drenched solo. "Oh yeah! Going home!" Mingus shouts in the background before the whole gang get back into it to bring it all to a great ending, with Adams making it a very deep one indeed. That baritone really strikes home.
"Moanin'" features the baritone from the start. This up-tempo blues is swinging in the most enjoyable way. Many years ago drummer Mel Lewis explained how Adams got his nickname: "We called him 'The Knife' because when he'd get up to blow, his playing had almost a slashing effect on the rest of us. He'd slash, chop, and before he was through, cut everybody down to size." Hearing his solo on this track, which comes after McLean's and before Ervin's, gives one some idea of his explosive, "cutting" playing. Mingus can be heard shouting "Yeah, I know …what I know" behind the title for Todd Jenkins and Sy Johnson's book on Mingus: I know what I Know, published by Praeger Publishers in 2006.
Mingus starts "Tensions" before the rest of the gang put in some spirited ensemble work over the light touch of Richmond. Then come solos from the leader, McLean, Ervin and Parlan before the solos end with what Jenkins and Johnson call "a passionate drum improv" by Richmond.
"My Jelly Roll Soul" features Mingus playing "slap bass" and solos by Knepper, Parlan, McLean, Mingus and Richmond. This tune also featured on the later 1959 album "Mingus Ah Um" where it was simply called "Jelly Roll."
Mal Waldron replaces Parlan in the final track "E's Flat, Ah's Flat Too" to play an incredibly beautiful blues solo. The track is altogether amazingly energy-filled and the players all have opportunities to make their presences felt. Its a hard-driving affair and a great tribute to the stamina and musicality of all involved.
On the CD which I have there follow alternative takes of tracks 1, 4, 5 and 6 which are interesting to listen to but I can hear why they are "alternative" tracks. The tracks issued on the original album are definitely better overall, though the alternative tracks do have some good moments.
Post-modernist tribute to New Orleans
Overall this is an album that stands well with all of Mingus' output, though perhaps not as great as the later Mingus Ah Um or Black Saint and the Sinner Lady (this album, by the way, is rated by jazz writer Piero Scaruffi, as the number one jazz album of all time), but one which is a favourite of mine for the feel and energy of it all.
Scaruffi described the album as "a post-modernist tribute to the sound of New Orleans, an exercise in disassembling the clichés of a genre and rebuilding it from an analytic perspective (best the gospel-y Wednesday Night Prayer Meeting and the bluesy Moanin'). None of the exuberance was lost, but the harmonic complexity was certainly not what the old New Orleans bands had in mind." (From http://www.scaruffi.com/jazz/mingus.html, accessed on 5 June 2009).