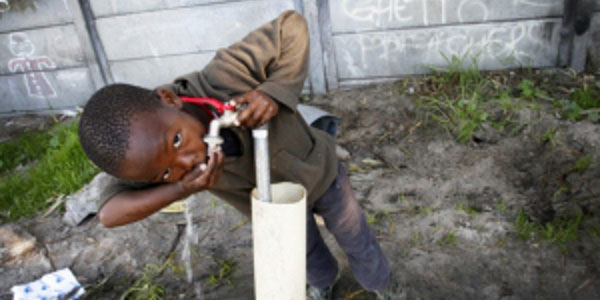 Bushbuckridge – Water and Environmental Affairs Minister Edna Molewa has unveiled the completed phases of a project aimed at supplying water to 15 additional villages in the Bushbuckridge local municipality in Mpumalanga.
Minister Molewa, together with Premier David Mabuza, unveiled the Inyaka Integrated Water Supply Scheme in Bushbuckridge on Monday, as part of National Water Week, from 18 March to 23 March.
"We appreciate the fact that the now completed Integrated Inyaka Water Supply project consists of the Inyaka Water Treatment Works Phases three and four, the Acornhoek Bulk Water Pipeline, as well as water reticulation projects to 15 villages," said Minister Molewa.
"These 15 villages are now additional to the 58 that were being supplied from the treatment works prior to the completion of phases three and four of the project. I believe it is work well worth applauding, as it has brought access to basic services closer to the people."
The minister said government had spent R482 million to complete phases three and four.
"It will serve a population of around 850 000 people. There were a total of 423 jobs created, with 76 women amongst these. A total of 270 people were trained in the process," she said.
Minister Molewa said the Bushbuckridge Water Board and the Bushbuckridge local municipality reported that residents will now have more reliable and consistent water supply.
"Is it the best that we can do? Have we achieved all that we set ourselves out to do? No… As far as this region is concerned, work is still on-going. What we are here to do, in particular, is to celebrate the delivery to those areas that have been serviced thus far.
"Further, we are here to prove to those people in the outstanding areas that we are making progress, and this progress is towards bringing them also into the area that will, in good time, receive the same services as those that are recently reticulated," said Minister Molewa.
The minister said government was aware that demand for raw water abstraction and treated water production would grow exponentially in the next five years.
"We are well aware that we still have a backlog of water supply, even with the work we are unveiling today…
"This increase in demand will be driven primarily by the need to meet the current water services backlog, improving the level of service, as well as the associated urbanisation of some of the current rural town of Acornhoek, Mkhuhlu and Bushbuckridge itself," she said.
She added that the Thulamahashe line, which has a demand for 32Ml/d, will now receive supply from the Inyaka Water Treatment Works.
"The Thulamahashe Bulk Pipeline will eventually supply 44 villages from the area of Dwarsloop to Hlalakahle around Gottenburg. For the remaining villages, the reticulation work is currently underway. The completion date is scheduled for end of May this very year," Minister Molewa said.
Premier Mabuza thanked Bushbuckridge residents for being patient with them.
"We came to assure you that the water treatment and main pumps are now ready for service. Engineers and scientists have tested the water today and it is ready for consumption. We are happy that you were patient with us when we made the promise last year," he said. – SAnews.gov.za