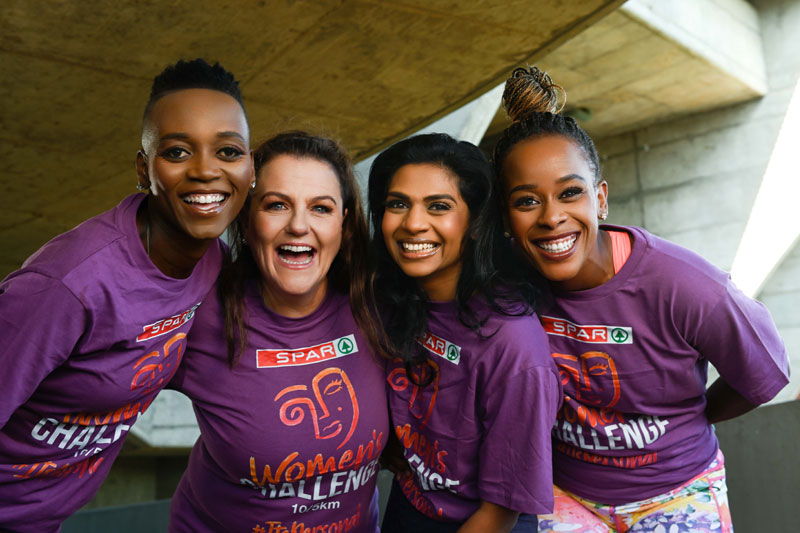 Durban, South Africa: On the road again! The ever-popular Durban SPAR Women's 10/5km Challenge – dubbed as South Africa's most beautiful race – is back in full swing as entries are now open for its 2023 edition on Sunday 25 June.
Entries Open for Durban's SPAR Women's 10/5km Challenge 2023
The SPAR Women's Challenge is one of South Africa's oldest and most-loved road races that continues to inspire and support women, old and young from all walks of life to achieve personal goals and live a healthy lifestyle. With a maximum of 10 000 entries available participants need to get their entries in soon.
The theme for this year is #ItsPersonal, a motivation for women to show their incredible determination to attain their goals, and just one way to demonstrate it's a personal journey and that challenges can always be conquered, and goals achieved.
SPAR is also pleased to announce that four strong KZN female role models will be flying the flag as the race Ambassadors: SA Rugby player and firefighting hero, Zinhle Ndawonde, former Protea's Netball star, Baby Proteas coach and teacher, Precious Mthembu, actress; and comedian, Lisa Bobbert and an Obstetrics and Gynaecology specialist Dr Marise Subrayan.
Setting off first, the 10km race, incorporating the national SPAR Grand Prix Series, gets going at 08:00am, followed by the popular 5km Fun Run / Walk which begins at 9am. The route for both distances is a fast and flat one that showcases the spectacular Durban beachfront before finishing at Hollywoodbets Kings Park Stadium outer fields.
Online entries are now open, and limited to the first 10 000 ladies at www.sparwomensrace.co.za/durban. Bulk entries are now also available online. Entries close on Sunday 18 June or when the 10 000 cap has been reached.
Prize money for the winner is R30,000, second place is R25,000 and third is R20,000. Prize money of R10,000 has been introduced for the first South African runner, with a total prize pool of R185,000. The event is offering over R70,000 in Lucky Draw prizes and the opportunity to go into a final draw to win a brand new Proton X50 worth R449,900.
The entry fee for licensed runners for the 10km is R150 and R200 for non-licensed runners. The 5km Fun Run entry fee is R150. Participants will receive a beautiful race T-shirt and SPAR Goody Bag. On race day there will be route refreshment stations, live entertainment, and medals will be handed out on completion of the event. Participants in the 10km event should be 14 years and older, and participants for the 5km should be 9 years and older on the day of the event.
For all the relevant race information and to enter online go to www.sparwomensrace.co.za/durban. For more information like the SPAR Women's Race KZN Facebook page (SPARWomens10and5kmRace), or follow on Instagram (sparwomenskzn) or Twitter (sparladiesrace).