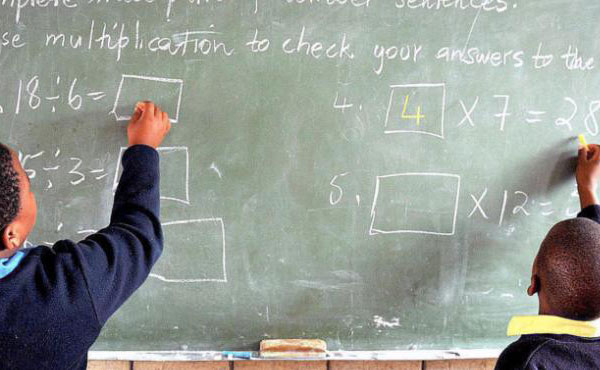 National and provincial government leaders have this morning visited schools across the country to assess the state of readiness for the new school year and to wish learners well for 2016.
This is part of the Back-to-School campaign to ensure that teaching and learning commence in all schools.
Deputy President Cyril Ramaphosa today handed over a brand new school to the community of Daveyton as part of the Gauteng Provincial Government's Back-to-School programme.
The Gauteng Education Department said the new state-of-the-art school, which is in Chief Luthuli Park in Daveyton, is one of the new Information Communication Technology (ICT) schools that will be launched by the provincial government this academic year.
"The school was established to relieve overcrowding at Chief Luthuli Primary School No 1 as well as absorb learners from a closed small farm school called Bapsfontein Primary School," said the department.
All MECs in Gauteng also visited a number of public schools to monitor and give support to learners and staff.
Gauteng Roads and Transport MEC Ismail Vadi was expected to visit Zithobeni Secondary School and Cultura High School in Bronkhorstspruit, Gauteng North.
"The purpose of the visit will be to assess the state of readiness in terms of resources, admissions, learner and educator attendance as well as to encourage and motivate learners," said the Gauteng Department of Roads and Transport.
Gauteng Provincial Legislature Speaker Ntombi Mekgwe on Tuesday extended well wishes to all Gauteng learners ahead of the schools reopening.
Mekgwe encouraged learners to start preparing for final examinations now. She said all teachers in the province must rededicate themselves to being in the classroom as expected of them, ensuring that learners are taught.
She also urged parents to continue to encourage and support their children, as well as take part in all activities of School Governing Bodies.
Provinces ready to tackle the year
The Eastern Cape Executive Council (EXCO), led by Premier Pumullo Masuale, also visited various schools in that province, especially in the Port Elizabeth education district with a particular focus on schools identified as having underperformed in 2015.
The Portfolio Committee on Education of the Eastern Cape Provincial Legislature (ECPL) was also set to conduct school visits across the province today.
The committee will focus primarily on the pressing issues such as the provision of Learner Teacher Support Materials (LTSM) and educator provisioning.
The committee is also expected to address the availability of learner transport and school nutrition for qualifying learners, and the state of school infrastructure.
Committee Chairperson Fundile Gade said their visits will give the committee an opportunity to evaluate the turnaround plan of the Basic Education Department.
In the North West, the Provincial Legislature will from Wednesday until Friday conduct oversight visits to 123 schools across four districts to assess the schools' readiness for 2016 and challenges faced by the schools.
The Portfolio Committee on Education, Sports, Arts, Culture and Traditional Affairs will after the visits interact with the Department of Basic Education to see how best challenges can be addressed.
The Limpopo Education Department, meanwhile, said among those attending school this year are more than 15 000 grade 1 learners, who were registered towards the end of last year.
The department said MEC Ishmael Kgetjepe had a meeting with District Senior Managers to check if schools were ready for today.
"He instructed that teaching and learning resume today in all schools. Learning and teaching material started being delivered in the past months and the department is completing the process," said the department.
The department said Limpopo Premier Stanley Mathabatha and MEC Kgetjepe will be joined by Provincial Legislature Members, Executive Mayors and Mayors to visit Dendron School today.
Mpumalanga Finance, Economic Development and Tourism MEC Sikhumbuzo Kholwane also visited Estralita Special School in Thaba Chweu Local Municipality today.
The Mpumalanga Treasury said the MEC's visit forms part of the province-wide outreach programme that MECs will undertake to give moral support to educators and learners as they begin the new year of schooling.
MEC Kholwane is expected to hold brief talks with school management teams as he assesses, among others, academic preparedness and availability of stationery.
In the Western Cape, close to a million learners were expected to arrive at schools this morning.
MEC of Education Debbie Schäfer also visited Intshinga Primary School in Gugulethu to meet and interact with teachers, learners and parents on the first day of school.
The department said it has been working hard to ensure that its schools are prepared to ensure a smooth start to the academic year.
Getting the school environment ready
As part of preparing school infrastructure across the country, the Deputy Minister of Justice and Correctional Services, Thabang Makwetla, also visited Makopanong Combined School in Mpumalanga today.
The Department of Correctional Services (DCS) on Tuesday said the Deputy Minister will be joined by more than 50 parolees, probationers and inmates under the Middleburg Community Corrections for the annual Schools Clean-up campaign.
"Work to be done includes cutting of grass, cultivation of school gardens, cementing of cracked floors, floor tiling, renovation of roofs, door and window repairs, repairing of bookshelves and cabinets, painting, cleaning of premises as well as repairs to ablution facilities and fencing.
"The campaign forms part of a nationwide programme to contribute to the rehabilitation of inmates through offender labour, thus advancing the DCS mandate of reducing possible reoffending and to ensure successful reintegration of ex-inmates into communities," said the department.
Encouragement for the new year
Brand South Africa also extended a message of encouragement to all learners and students.
Brand South Africa CEO Kingsley Makhubela said everyone has the right to good quality education, as this provides young people with confidence, the necessary skills and ability to think critically, creating a solid foundation for success in life.
"Young people have an integral role to play in accelerating growth and development in South Africa. Through the National Development Plan (NDP), we have opportunities to fully develop the potential of our youth so that they can contribute effectively towards the national agenda.
"I encourage our young people to play their part and be active citizens who are able to shape a new growth path for the future of the nation by accessing opportunities provided by education, skills development and training in order to improve the quality of life for all. We wish you all a successful academic year. Do our nation proud," said Makhubela. –  SAnews.gov.za