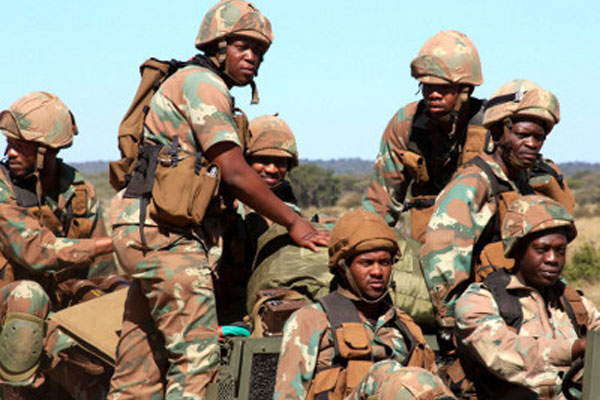 Africa – Defence and Military Veterans Minister Nosiviwe Mapisa-Nqakula has reiterated South Africa's commitment to playing a major role in peacekeeping efforts on the continent.
Speaking at a post State of the Nation Address media briefing on Monday, the minister said the country had solidified its position in Africa and elsewhere in the world since 1994.
"We have continued to render humanitarian support to a number of countries during disasters as well as electoral support. We also play a role in supporting post-conflict reconstruction and development processes, capacity building, financial, administrative and technical assistance.
"This will mean that the efficacy of SANDF forces deployed in peace missions and general military assistance missions will be measured in terms of … (being) ready and mission trained, and (being) properly supported and protected by the correct legal instruments and legal framework," Minister Mapisa-Nqakula said.
She said Africa remained at the centre of South Africa's foreign policy, and the success of the country's economy depended on enduring peace, stability, economic development and deepened democracy on the continent.
The Department of Defence has also taken the lead in developing and implementing a Southern African Development Community (SADC) Maritime Security Strategy Action Plan and the conclusion of a MoU between member states to mitigate the continued threats posed to regional economic and social stability by acts of maritime piracy.
International peace missions
Between 1999 and 2014, South Africa has taken part in 14 peace missions.
Since 1996, the South African Police Service (SAPS) has been involved in various peace and security international operations and their first operation was conducted in Mozambique. This was part of the disarmament, demobilisation and reintegration programme coordinated by SADC. The operation was codenamed "Operation Rachel" and it continued until 2008.
Minister Mapisa-Nqakula said SAPS also helped Mozambican police in the identification, collection and destruction of small arms, light weapons and ammunition, which were allegedly used during the conflict in that country.
"There were other disarmament programmes like Operation Manguzi, which covered the Republic of Angola, Lesotho, and Namibia. With these operations, SAPS managed to assist police forces of these countries to develop Arms Management Programmes, which entailed safe storage and final disposition of weapons that were collected.
"In 2011, SAPS deployed 200 police officers to Equatorial Guinea for building her security capacity and the safeguarding of African Union Summit."
Reforming police structures
As part of the Post Conflict Reconstruction and Development Programme, between 2003 and 2013, SAPS has been involved in reforming and restructuring the police forces of various AU Member States.
It has been involved in training police officers of Angola, Haiti, Uganda, the Democratic Republic of Congo, Sudan and South Sudan and has given advice on policy, planning and legislative development, as well as training and mentoring in key policing areas including VIP protection, crowd management, and investigation.
SAPS is currently involved in two peacekeeping missions in Sudan and South Sudan. It started deploying its first contingent of 85 individual police officers (IPOs) to the African Union mission in Sudan, Darfur (AMIS).
"These members are deployed on a rotation basis and currently we have 45 members deployed in the peace mission in Darfur under the United Nations Security Council Resolution (1769).
"Since SAPS participation in these missions, they have been occupying strategic positions and the Mission Police Commissioner has always been a South African up to date," Minister Mapisa-Nqakula said.
She commended South Africans soldiers for putting their lives on the line for peace sake.
"Each one of them is an everyday hero. The country should be proud of these patriots and collectively as a nation, we must show pride in their heroism, even during times of challenges and despondency.
"We have travelled a long way since the days when the sight of our armed forces used to inspire fear amongst the peoples of our neighbouring states. Since 1994, we have transformed the SANDF into a symbol of hope and a defender of defenceless people.
"Our armed forces are celebrated today for their critical role in stabilising, reconstruction and development of infrastructure and the training of troops in war-torn countries," said Minister Mapisa-Nqakula. – SAnews.gov.za