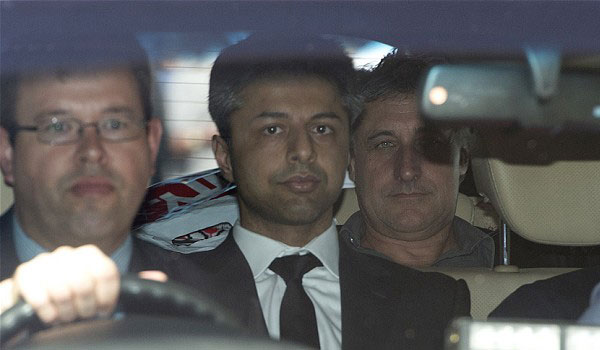 Honeymoon murder accused Shrien Dewani has been formally charged with five counts, including the murder of his wife, Anni Dewani.
Dewani arrived at the Cape Town International Airport shortly after 9am on Tuesday morning in a private jet chartered by the Department of Justice and Constitutional Development.
He was then whisked to the Western Cape High Court, where he was charged with kidnapping, robbery with aggravating circumstances, murder, conspiracy to commit murder and defeating the ends of justice.
The case was postponed to 12 May 2014, pending a medical examination to determine whether or not he would be fit to stand trial.
Dewani has been accused of orchestrating the murder of his wife. He allegedly ordered local men to carry out a hit on his wife and make it look like a fatal carjacking incident.
A substantial amount of money was paid for the hit, which occurred in Khayelitsha in November 2010.
Three men have already been imprisoned for the same offence. Xolile Mngeni, Mziwamadoda Qwabe and Zola Tongo were convicted of murder between 2010 and 2012. The men were sentenced to life imprisonment, 25 years' imprisonment and 18 years' imprisonment respectively.
"We wish Dewani well as far as his health his concerned, in order for him to be able to tell his side of the story. Our investigating team is ready to resume with the trial. We hope the trial will bring closure to both the Hindocha and Dewani families," said National Head of the Hawks, Lieutenant Anwa Dramat.
Dewani has been fighting removal from the UK, citing mental health problems, including severe depression and post-traumatic stress disorder.
Meanwhile, the department says the cost of transporting Dewani from the Bristol Airport in the United Kingdom to Cape Town International Airport was R2 905 574.31.
The department procured the chartered plane to transport Dewani, a South African medical doctor, nurse and members of the South African Police Service and Interpol.
Department spokesperson Mthunzi Mhaga said the choice of a private aircraft was informed by the fact that Dewani's peculiar medical condition needed to be constantly monitored and attended to, and the situation on a commercial fight had the potential to compromise Dewani and that would have had an adverse effect on the pending medical examination.
"We took into account the fact that there was undisputed evidence during the extradition hearing, that he had displayed suicidal tendencies and the South African government did not want to take chances.
"It was therefore paramount that his return to the country is hazard free, in order to ensure that he eventually makes that court appearance without hindrance," Mhaga said.
Dewani will be detained at Valkenberg Hospital in Cape Town, where he will receive psychiatric treatment pending his trial. – SAnews.gov.za