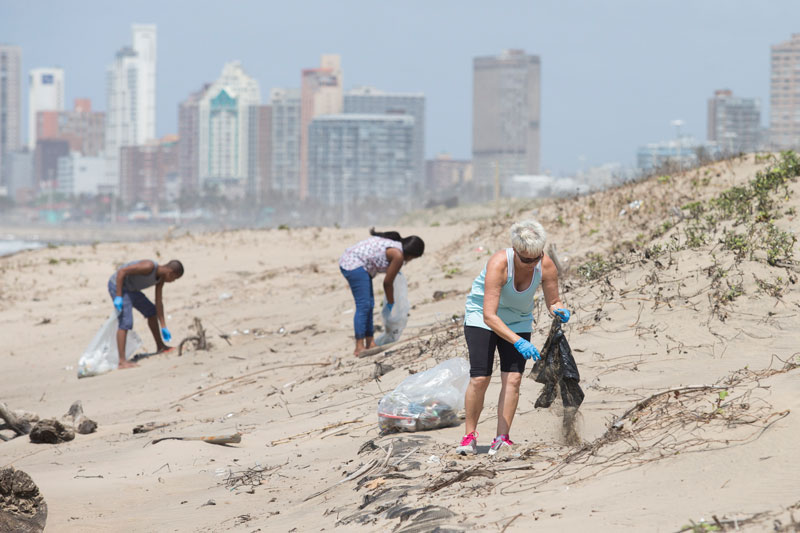 Cape Town – A group of proud Capetonians will take to the streets of the Mother City this coming Saturday (19 May) as part of a 'Cape Town City Clean-Up' expedition that is aimed at getting the streets ready for the 4th annual FNB Cape Town 12 ONERUN, a 'proudly Cape Town' celebration.
Mother City cleans up for FNB Cape Town 12 ONERUN
"We were overwhelmed by the support received at the 'City Clean-Up' in Johannesburg (FNB Joburg 10K CITYRUN) and Durban (FNB Durban 10K CITYSURFRUN) in 2017, and look forward to hosting our first 'City Clean-Up' in Cape Town," says Michael Meyer, Managing Director Stillwater Sports. "We are excited to partner with PETCO and Averda, two specialists in the field of waste management. Under their guidance waste will be collected, sorted and disposed of in the correct manner. The FNB Cape Town 12 ONERUN highlights and celebrates the splendour of Cape Town. The 'City Clean-Up' is one more way in which we would like to make a difference."
PETCO is South Africa's national industry body that is accountable for managing the PET plastic industry's Extended Producer Responsibility (EPR).
According to Janine Basson, PETCO Stakeholder Relations Manager, PETCO's mission is to grow the collection and recycling of PET plastic, after consumer use. "PETCO is thrilled to be involved with the FNB Cape Town 12 ONERUN. Plastic touches us all, whether directly or indirectly. It is imperative that we come together to be part of true sustainability when the opportunity, such as the 'Cape Town City Clean-Up' presents itself. We believe that clean-ups have an important role to play in shifting South Africa away from a 'take-make-dispose' system to a circular economy by ensuring that valuable resources, such as PET plastic bottles are diverted from landfill and collected for recycling."
"PET bottles are not 'single-use' bottles and are not trash," continues Basson. "When they are recycled, they are made into new bottles for water or beverages or other useful products such as polyester fibre for duvets and pillows, jeans, t-shirts and re-usable shopping bags. PETCO is sponsoring the bags and gloves for the 'Cape Town City Clean-Up'. We are also sponsoring spot prizes: t-shirts and caps made from recycled plastic bottles. The t-shirts are manufactured in Cape Town and are made from two thirds recycled plastic bottles, blended with cotton."
Interesting Fact: It takes approximately seven bottles to make one t-shirt. The following video explains the process:
https://bit.ly/2rx48LR
Averda is a leading international waste management company that manages waste in cities, industries, offices and homes across three continents.
According to Francois de Clercq, Averda General Manager Wester Cape, the organisation is perfectly placed to assist with the collection, transportation, sorting and recycling or responsible disposal of waste materials. "Through the 'Cape Town City Clean-Up' we hope to educate thousands of residents across Cape Town about the impact of litter on our communities and the environment, while empowering people to make a difference by keeping their city clean. Our vision is to create a cleaner world and better lives. Waste will be sorted removing plastic, cardboard, paper, metal, wood and glass for recycling. Wherever possible, we try to minimise the amount of waste that goes to landfill. This is particularly important in Cape Town where there is a shortage of landfill space."
Interesting Fact: A number of products are made from recycled materials. Aluminium cans are recycled to make car bodies and parts, plastic can be recycled to make new bottles, bags and garden furniture. Paper or cardboard can be recycled to make new paper products without needing to cut down trees.
The 'Cape Town City Clean-Up' is open to all willing participants and will start in front of the Cape Town City Hall at 07:30 (until 10:30) on Saturday, 19 May 2018. Each participant will receive a pair of gloves and a plastic bag from PETCO.
EVENT INFORMATION: FNB Cape Town 12 ONERUN
Date: Sunday, 20 May 2018
Start Venue: Woodbridge Island, c/o R27 and Loxton Road, Milnerton (Cape Town)
Finish Venue: Bree Street (Cape Town, CBD)
Entry Fee: Standard Entry: R170 (licensed) / R205 (unlicensed)
Gold Package Entry: R850 (licensed) / R885 (unlicensed)
Charity Support: When entering online, runners can choose to support either or both the FNB Cape Town ONERUN Charities: Die Burger Kersfonds and The Cape Of Good Hope SPCA.