Robben Island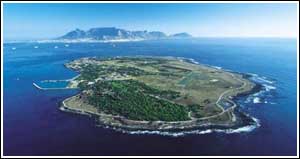 World Heritage site
Year inscribed: 1999
Location: Western Cape, 33 48′ S 18 22′ E
Type: Cultural heritage
Nelson Mandela made famous the place of Robben Island where , South Africa's first democratically elected president, was imprisoned for 18 of the 27 years he spent in jail. The island has since become a symbol of the triumph for democracy and freedom over oppression.
Situated 11 kilometres from the shores of Cape Town, the small, windswept island is home to the world-renowned Robben Island Museum, and is considered a highlight of any visit to South Africa.
Robben Island was not always an island or a prison. Thousands of years ago it was part of the Cape Peninsula was an inhabited area which was connected by a speck of land to the Cape mainland.
It was first used as a jail by Dutch colonists to the Cape who, on their arrival in the mid-1600s, began to incarcerate opponents of colonial rule there.
From the mid-1960's the Island gained infamy as a maximum-security prison for anti-apartheid activists, including Nelson Mandela. The prison held numerous leaders of the African National Congress (ANC), including Walter Sisulu, Govan Mbeki and Ahmed Kathrada, as well as Robert Sobukwe, the founder of the Pan Africanist Congress.
It has also been used as a leper colony, and as a mental hospital from 1846 to 1931, as well as a military training and defence base in World War II.
After the unbanning of the ANC and other opponents of apartheid in 1990, political prisoners were released from the island, with the last to leave in May 1991. The last of the common-law prisoners left in 1996, when jail.
The World Heritage Committee declared Robben Island a World Heritage site of cultural significance in 1999.
"The buildings of Robben Island bear eloquent testimony to its sombre history," the committee noted, adding that the island "symbolises the triumph of the human spirit, of freedom, and of democracy over oppression."