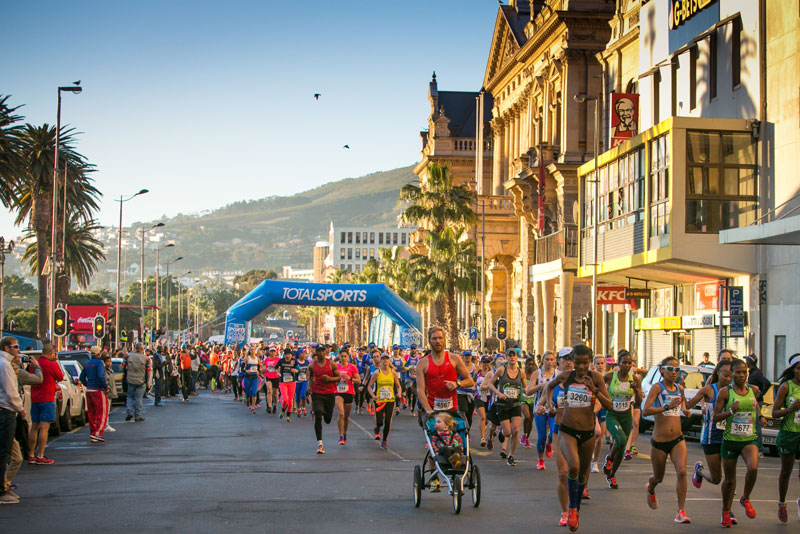 Runners (and walkers) can look forward to an active Women's Day on Thursday, 09 August 2018 by enjoying a 10km (or 5km) journey through the streets of Cape Town at the 2018 Totalsports Women's Race in support of PinkDrive.
Women's Day – Totalsports Women's Race Cape Town
"The 5km route will feature a few small hills while the 10km route is sure to pose a challenge to runners that wish to race against the clock," says Agne du Plessis, Stillwater Sports:  General Manager Road Running and Athletics.  "Both events will start and finish in front of the Cape Town's City Hall. Other iconic landmarks to look out for will include the Company Gardens, South African National Gallery, South African Jewish Museum and District Six to mention just a few.  The calming setting of the Company Gardens, beautiful harbour and stunning Table Bay views at the top of District Six will add a special ambiance to this much anticipated Women's Day celebration.Runners and walkers can look forward to a fantastic day out with family and friends."
image by Mark Sampson
Event Information:
2018 Totalsports Women's Race Cape Town
Date: Thursday, 09 August 2018
Venue: Grand Parade, Cape Town CBD
Entry Fee: 10km licensed runner: R120.00
5km: R80.00
10km Cape Town unlicensed runner: R155.00 (temporary license included)
Each entrant will receive a fitted Event T-shirt, a Totalsports head scarf and a finisher's bracelet.
The following ROADS will be affected by ROAD CLOSURES on event day (between 05:00 – 13:00): Darling, Primrose, Hyde, Nelson, Roeland, Tennant, Constitution, Adderley, Parliament, Plein, Corporation, Paddock Avenue, Avenue, St Johns, Hatfield, Vrede, Wandel, Hope, Canterbury, Cauvin, Keizersgracht, Sir Lowry, Kuyper, Phillip Kgosana Drive (Service Road), Christiaan, Searle, Warwick, Nelson Mandela Drive, Chapel, Balfour, Francis, Basket Lane and Russel.
PRIZE PURSE:  The 2018 Totalsports Women's Race Cape Town (10km race) boasts a R41 200 prize purse.  Prize money has been allocated to the top 8 finishers in the Open Category with the winner taking home a whopping R10 000.  The top 8 runners in the Junior Category will also be awarded for their efforts, while the top 3 finishers in the age categories 40-49, 50-59, 60-69 and 70+ will also not go home empty-handed.
CHARITY SUPPORT: The Totalsports Women's Race supportsPinkDrive, a Non-Profit Company (NPC) that is committed to improving breast cancer awareness, education, and providing and offering free services to the medically uninsured across South Africa.  PinkDrive will be present on event day offering FREE clinical breast examinations and educating on the importance of self- breast examinations
LIVE ENTERTAINMENT:  The action of the Totalsports Women's Race Cape Town will close off with a lively performance by GoodLuck.