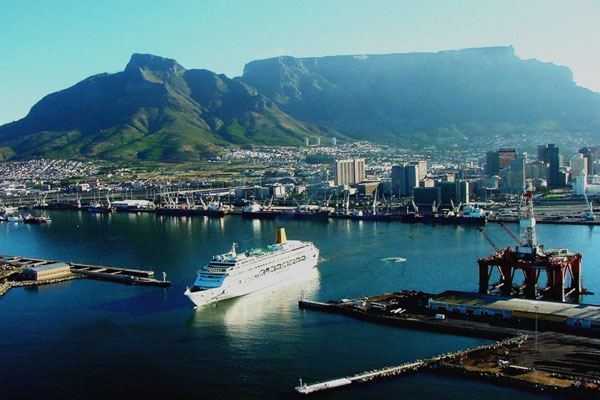 Government has opened a Port of Entry Control Centre at the Cape Town Harbour, which introduces a new way of managing ports.
"The launch of this facility today is more than that of opening a physical building equipped with state of the art technology – it introduces a new way of managing maritime ports of entry in our country," said Finance Minister Pravin Gordhan on Friday.
The inter-departmental centre at Cape Town Harbour, commonly referred to as Cowrie Place, is the first maritime facility in South Africa, where all relevant government services related to the movement of people and goods and are rendered from the same building in a coordinated fashion.
South Africa depends on the efficiency of its seven commercial ports. South African ports handle an estimated 200 million tonnes of freight a year.
The objective of an efficient system to manage the movement of people and goods across borders, must strike the ideal balance between trade facilitation and promoting tourism on the one hand, and managing security threats and protecting our local economy from illicit and counterfeit goods on the other.
Some of the challenges that face the maritime sector are that real estate in the harbour is at a premium and that threats are spread over a large geographical area among others.
Friday's launch, said the minister, embraces the power of leveraging the intelligence and data gathered by various arms of the state to plan and execute daily activities without compromising the sovereignty of any specific department.
Over 40 officials from departments such as the Department of Agriculture, Fisheries & Forestry (DAFF) and the Department of Health moved into the newly refurbished 2000-square meter facility over the past week.
"We trust that you will embrace the new way of working and do us proud and use the foundation we laid in this port as a model to replicate in other maritime ports," he said of the officials.
"Ultimately, it is the "customer experience" that matters most. Those who have bona fide business and other interests in entering or bringing goods into SA or leaving or exporting goods from SA, should receive efficient and courteous service. Those whose motives will harm our economy or people will be dealt by the full might of the law," said Minister Gordhan.
Home Affairs Minister Naledi Pandor said at the launch event that the Cape Town Port of Entry Control Centre is an important step in government's effort to enhance the integrated approach to border management.
It will assist in tackling problems around border security and control in the harbour.
"It will operate as a model 'Government House' that brings together government departments and state agencies including immigration, customs, health, agriculture, security and intelligence under one roof, to promote a seamless, modernised, efficient and effective service," said Minister Pandor.
She said the success of this massive project shows how much can be achieved when government, business, labour, non-profit organisations, community representatives and broader civil society work together. – SAnews.gov.za