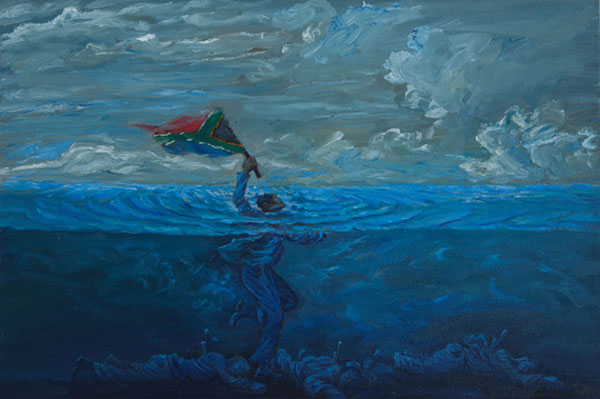 Barnard Gallery is proud to present True Colours – a solo exhibition by Ndikhumbule Ngqinambi. As the idiom suggests, the definition of true colours is to reveal the reality beneath the mantle of appearance.
Truth, memory and history
In this show, Ngqinambi deals with divergent discourses around truth, memory and history, as conveyed through the flag, one of history's most semantically loaded emblems.
Denoting identity, belonging, unity and power, the flag represents the honour of a nation. Its defilement constitutes an act of sacrilege against the state it represents.  But a flag is also a signal to a vehicle or driver to take heed, slow down or stop. Using the flag as his thematic fulcrum against the backdrop of volatile narratives of oppression and liberation, Ngqinambi explores and interrogates the motives of governments in hoisting the flag for reasons other than national unity.
Hazel Friedman, May 2014.