A historical investigation into the Sea Point beachfront as a public open space throughout the 20th century with special reference to memories of growing up along the Sea Point Promenade by Leila Emdon.
Chapter Two continued – The growth of a suburb: the Development of Sea Point in the late 19th century to the 1950s
<< previous A Peaceful Suburb
Growing up at the Sea Point Pools
The pools along the Sea Point coast have an interesting history in that for decades people have enjoyed bathing. Today there is still the Milton Pool and the Saunders pool. Given the rough sea along the coast, these rock pools were made to be tidal pools, making it easier for people to swim. Opened in 1895, the Sea Point baths were built at the foot of Church Road. Above the pool, there was a wooden structure with cubicles, and there were, of course, separate bathing hours for men and women.26 The baths lasted until 1911 when a storm washed them away.
The first Sea Point baths before WW1 Photo: Under Lions Head ©
Later, the famous Pavilion opened in 1914 and served Sea Point for 40 years. 27 People have fond memories of the Pavilion, "On top of the pavilion was an open air cinema. Above the cubicles by the pool were a tearoom and an open-air stage. It was beautiful at night."28
"The usual crowds of kids were also there during the holidays. Vic Davis and his band entertained us in all kinds of ways. We sat on the sand, watched, and listened with delight. He used to call children to come onto the stage to perform which we considered to be an honour."29
Everyone I have spoken remembers with Joy the Vic Davis band, a treat for young people and brought many good memories.
"There were talent contests at the pavilion. The audience would boo you or cheer for you. Everyone would sit in their bathing costumes on the sand."30
The Pavilion was later rebuilt to accommodate more people.
"Sea Point was more like a family residence. For instance the Pavilion, the old Pavilion, it had a restaurant upstairs, on the second level, and it had a smaller pool for kiddies surrounded by sand and the main sort of pool. Everybody knew everybody else because it was a much smaller community then."31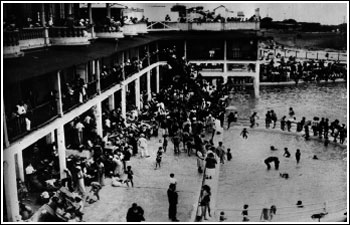 The old Pavilion in the 1930s Photo: I remember Cape Town ©
<< previous A Peaceful Suburb —- Childhood and Teenage Memories of the beaches and promenade next >>