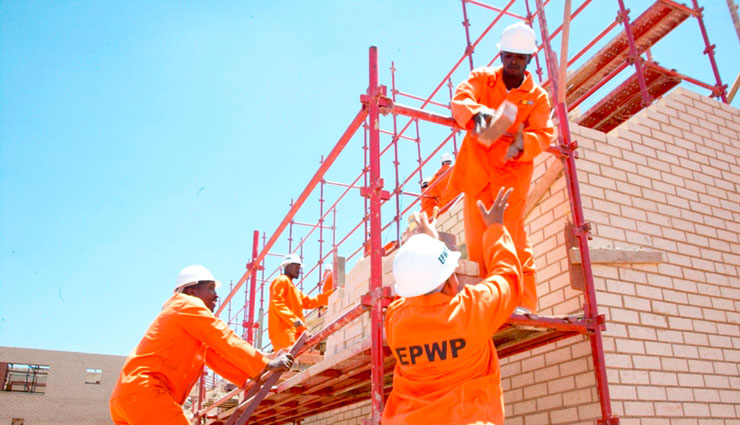 Free State Premier Ace Magashule says the province's job creation prospects are looking up, with 51 020 work opportunities created as at the end of January this year through the Expanded Public Works Programme (EPWP).
"55% of the job opportunities were created for youth, 63% for women and 0.6% for people with disabilities," said the Premier on Tuesday while tabling the State of the Province Address (SOPA).
He said the local government-based Community Works Programme has created 17 572 job opportunities in 14 municipalities where the programme is being implemented.
"It is envisaged that this programme will be expanded to create one million job opportunities by 2019," he said.
The Premier said the extension of the Manganese packaging facility at Transwerk in Bloemfontein has created opportunities for SMME truck owners, in partnership with Women in Transport and Logistics. He said 100 direct and 50 indirect jobs were created.
The provincial government has provided financial and other support to SMMEs as the sector forms the foundation of the Free State's future economic development.
"Other initiatives include support to 44 SMMEs in export facilitation and access to international markets.
"We will also continue to invest in our Micro Enterprise Support Programme.  A specific focus area of our SMME support programme will be the development and strengthening of rural and township economies," he said.
Improved education
Premier Magashule said progress on the education front has been significant and it is illustrated by improved performance in the Annual National Assessment (ANA) and National Senior Certificate (NSC) examination in 2014.
He said the performance of grade 3 and 6 learners improved in mathematics and languages.
"The Free State achieved a pass rate of 82.8% for the 2014 NSC examination. Thabo Mofutsanyana District remained our best performing district with an 87.6% pass rate. A significant number of our schools achieved a pass rate of above 80% and 50 schools obtained a 100% pass rate," the Premier said.
There are currently 6 009 full-time bursary holders with an additional 500 bursaries allocated this year. A dedicated call centre will be established to provide a platform for continuous engagement and support to students.
Premier Magashule said a total number of 312 post-graduate bursaries have been finalised; 42 students will be supported towards their PhD studies; 134 towards Masters' degree studies and 136 towards their Honours' degrees.
The Free State will establish a Research and Development Institute and there will also be a provision of student accommodation.
"Specific plans in this regard focus on the allocation of the former Bonamelo College to the QwaQwa campus of the University of the Free State as a boarding school," the Premier said.
There are currently 212 medical students studying in Cuba, with another 37 students studying medicine, civil engineering and international trade in Turkey.
"We are also supporting 277 students in China and 100 students who will soon be leaving to commence their studies in India," the Premier said.
He said there are currently 1 496 registered early childhood development (ECD) sites and 97 283 pre-school children attending ECD programmes at the registered sites.
He said there are 4 835 ECD practitioners and 324 children with disabilities attending ECD programmes at the sites.
The Premier said the total number of subsidized grade R classes increased by 80 to 1 145.
"The provincial government is also subsidising 265 grade R classes at community-based sites or independent schools. A total number of 49 350 learners have access to grade R," he said.
He said three new schools were completed in the 2014/15 financial year, namely Letlotlo Naledi Primary in Bothaville, Nthutuzelo Primary in Bultfontein and Lister Skosana Primary in Parys. Three new school hostels have been completed, namely Phillipolis, Bainsvlei and Ventersburg.
"The construction of two schools under the ASIDI [Accelerated Schools Infrastructure Delivery Initiative] programme — that is schools to be reconstructed that were built of prefabricated material — have been completed. These are PT Sanders in Trompsburg and Vredefort Primary in Vredefort," he said.
He said four school hostels are under development, namely Sediti Secondary and Boitumelong Special School in Thaba Nchu, Edenville Combined School in Edenville and Sebonakaliso Farm School in Harrismith, and that additional 50 new grade R classes will also be constructed.
The Premier said eight new schools will be built in various districts in the province this year, and that various projects are underway at 66 schools in the Free State.
"These projects will add additional classes at 31 schools, 29 administration blocks, 12 new halls, 12 new kitchens and 12 media centres and laboratories. Construction is in progress at 20 additional schools under the ASIDI programme," he said.
He said 10 schools will also be upgraded to full service schools in an effort to cater for learners with special needs.
Rural Development
Premier Magashule said the province township revitalisation programme has transformed at least 37 towns and 577 job opportunities have been created to date.
"In the forthcoming year, the township revitalisation programme will reach the communities of Tweespruit, Excelsior, Clocolan, Marquard, Soutpan, Tshiame and various other towns in the Xhariep district.
"There will also be additional work undertaken in the areas of Winburg, Makgolokweng, Rietpan, Bethulie and Cornelia," he said.
Health
Despite the challenges faced by the Health Department, the provincial government continued to make significant progress.
Immunisation coverage for children under one year improved from 86.8% in 2013/14 to 91.2% in 2014/15.
Premier Magashule said coverage for the Rota virus exceeded the 95% target and the pneumococcal vaccine reached 91.5%. Pneumonia incidents decreased from 89 per 1 000 of the under-five population in 2012/13 to 84.7 in 2013/14, while the TB new client success rate improved from 79.7% to 83.3 % and the TB cure rate from 73% to 77.1%.
"All multi-drug resistant (MDR) TB confirmed patients have been initiated on treatment. HIV counselling and testing (HCT) is implemented in all health facilities, public places and gathering. A total number of 109 047 people have been tested for HIV so far this year," he said.
The Premier said nevirapine uptake amongst babies born to HIV positive mothers is at 100%, and the prevention of mother-to-child transmission of HIV improved from 1.8% in 2013/14 to 0.09% in the first quarter of 2014/15.
"A total number of 1 170 appointments were made in the Department of Health during the current financial year. This includes 8 specialists, 42 medical officers, 44 community service medical officers, 47 professional nurses, 66 nursing assistants and 82 staff nurses.
"50 clinics will be enrolled on the Ideal Clinic programme," he said.
Premier Magashule said some of the initiatives to be implemented this year include the roll-out of a massive TB and HIV and Aids campaign, a pilot project focusing on the management of medical waste, and the accelerated implementation of a proactive maintenance programme focusing on health infrastructure will be undertaken.
"The Senorita Nthlabathi Hospital in Ladybrandt will be brought into operation during September 2015, while additional bulk infrastructure work at the Albert Nzula District Hospital in Trompsburg will be undertaken," the Premier said.
Crime and corruption
The Premier said the provincial government has assisted municipalities to identify and remove public servants who appear on municipal indigent registers.
"We continue to participate in the International Anti-Fraud Week together with the Association of Certified Fraud Examiners (ACFE), the Public Service Commission and our private sector partners," he said.
He said the finalisation of the Provincial Crime Prevention Strategy has resulted in remarkable multi-agency security cooperation in the Free State.
"The success of our crime prevention strategy is evident from the 2014 Crime Statistics of the Free State that recorded a decrease in the categories of murder (decreased by 7.5%), attempted murder (decreased by 3.8%), assault grievous bodily harm (decreased by 5.6%), common assault (decreased by 3.3%) and total sexual offences (decreased by 5.6 %).
"These successes will be increased through the establishment of the Fusion Centre and the installation of a closed-circuit television system that will effectively monitor priority areas," said the Premier.
He said in pursuit of ensuring visible trafficking, 225 hundred traffic wardens will commence duty on 15 March. – SAnews.gov.za