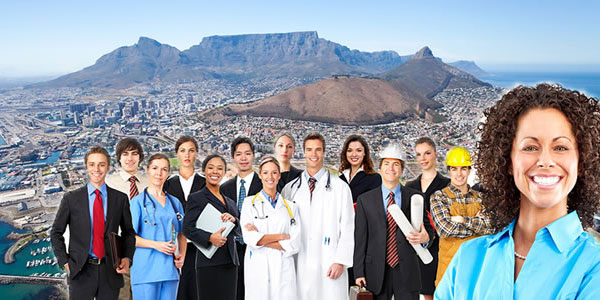 President Jacob Zuma said the government will expand its public employment programme with an aim of creating six million job opportunities to all South Africans.
Presenting the African National Congress's traditional January 8th Statement at the Mbombela Stadium, Mpumalanga, on Saturday, Zuma said with youth unemployment reaching alarming levels, the majority of the mooted jobs would be reserved for young people.
The January 8th statement was anchored on employment and economic development. The ANC also unveiled its manifesto ahead of the elections.
The statement, which the ruling party presents at the beginning of every year, usually sets the tone for the President's State of The Nation Address that outlines government's service delivery progress, and a plan going forward of programmes, interventions and priorities of government.
Addressing a packed stadium, Zuma said: "The most critical problem facing South Africa is that of unemployment and particularly, youth unemployment. The ANC will expand our already significant public employment programme and we aim to provide 6 million work opportunities.
"The majority of these jobs will be reserved for young people. We are also increasing number of opportunities for training and skilling opportunities for young people throughout the state-owned enterprises and other government entities. Our infrastructure programme continues to generate massive numbers of sustainable jobs."
He said the ANC saw the implementation of a national minimum wage as a key intervention of reducing inequalities.
Employment and Economy
Other key announcements that topped ANC's agenda for the next five years included:
–          Transforming rural areas through comprehensive development programmes like land reform, rural enterprise development, support to small farmers and the expansion for food for all programmes;
–          Improving and expanding education and training by making two years of pre-school education compulsory, eradicating adult illiteracy, bolstering teacher development, opening new universities and expanding the FET sector;
–          Implementing the National Health Insurance scheme beyond its pilot phase to improve the quality of health care while reducing the cost of medicine and treatment to promote access to the poor; and,
–          Providing housing opportunities to qualifying households in rural and urban areas for the next five years, and also connecting 1.6 million homes to the electricity grid over the next five years;
Zuma said the manifesto would seek to improve on the programmes that the government had already embarked on and that the National Development Plan (NDP) – government's policy that was implemented last year to eradicate poverty and inequalities – would be the anchor of all government work.
He said government would aim at building an inclusive economy to achieve its goals going forward.
"Part of the ANC's contribution will take place through our government's on-going programmes of consolidated, state-led industrialisation and infrastructure development.
"We will continue to build an inclusive economy  which draws from the skills of all South Africans. It is an economy that affirms our people which reduces income inequality as we undo the legacy of discrimination at work on grounds of race, gender and disability," he said.
Zuma said government would continue to intervene to improve the lives of the working class and the economy. He said building of an inclusive economy was a key priority and this would also include, amongst other measures, the promotion of the Broad-Based Black Economic Empowerment (BBBEE) and improving worker rights through, amongst other interventions, the banning of labour brokers.
He also said a discipline-centred and a professional public service will help government reach its goals.
Fighiting corruption, reviewing tender system
Zuma said the current tender system has been a problem for South Africa.
He said regulations were being finalised and that public servants will be prohibited from doing business with the state.
He also said the newly-established office of the chief procurement officer, located at the National Treasury, will monitor the pricing of goods and services to ensure bidding and adjudication fairness and curb price inflation,
He also said the new regulations would make it easy for government to pursue action against companies involved in bid rigging, price fixing and corruption in past and current infrastructure build programmes. Those found guilty would be sacked from their positions.
He said where action is not taken;  the ANC would institute internal procedures to deal with corruption.
Calls for land reform legislation to be accelerated
Zuma said the 1913 Land Act and the resultant dispossessions were directly related to the current problems of poverty, unemployment and inequality.
He said without land, the country could not grow food to end hunger and guarantee food security for all. Without land, and that it also makes it difficult to provide decent housing and basic services.
"There is widespread acknowledgement that the willing-buyer willing-seller principle has not been successful and it is being replaced with the just and equitable compensation principle in line with Section 25 of the Constitution.
"We call on our public representatives to finalise the legislation meant to speed up the expropriation of land in the public interest. We shall grow sustainable rural enterprises and industries and intensify the development aspect of land reform. We are expanding our programme to ensure that all land reform funds become productive and contribute to our food security."
Tribute to Madiba
This year's January 8th statement was the first that the ruling party presented without former President Nelson Mandela, who was laid to rest in Qunu on December 15.
Zuma paid a tribute to the fallen statesman.
"We meet just a few weeks after the loss of one of the greatest sons of our movement Nelson Rolihlahla Mandela.
"Comrade Madiba's contribution as the first President of the democratic South Africa laid the basis for and continues to inform our struggle to move South Africa forward. May his soul and the souls of all our fallen heroes rest in peace."
Achievements in the past five years
Pledging to drive programmes that will make the lives of South Africans better, Zuma said government had made a lot of progress in the past five years to improve the lives of South Africans.
This includes, amongst others:
–          The economy regained the one million jobs lost as a result of the 2008 global economic crisis. Employment is now higher than it has ever been.
–          More than R1 trillion has been invested in national infrastructure projects, compared with R451 billion in the previous five years.
–          The proportion of adults with access to banking services grew from 60% in 2009 to 75% in 2013.
–          Nearly 500 informal settlements have been replaced with quality housing and basic services.
–          The matric pass rate increased from 60.6% in 2009 to 78.2% in 2013.
–          FET enrolments doubled from 545,566 in 2010 to 657,690 students in 2012.
–          Loans and bursaries to poor students grew from 2.3 billion in 2008 to 8 billion in 2013.
–          Over seven million learners are in no fee schools, up from five million in 2009.
–          Teacher education has expanded-the number of new teacher graduates doubled from 6,000 in 2009 to 13,000 in 2012.
–          Through the 'prevention of mother to child transmission' programme, the number of babies born HIV positive was reduced by 66% from 24,000 in 2008 to 8,200 in 2011.
–          Average life expectancy increased by 4 more years to 60 years in 2012. – SAnews.gov.za