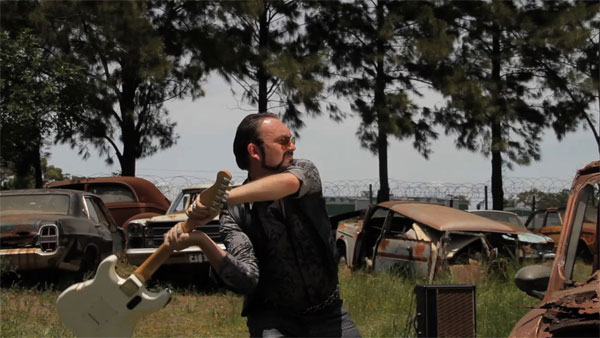 Radio presenter, film and musical director, singer, song-writer and all round music lover Jon Savage releases the trailer today for his latest feature film – Stone Cold Jane Austen.
Jon Savage Calls for Public Help from South Africa Music Lovers
For 3 years, Jon Savage (DJ from 5FM / Lead singer from Cassette) has been working on the feature film about the South African Music Industry. "I've seen all the sides of this industry, the good, the bad and the ugly. The SA Music industry is gagging for a comedy about it", he says.
The movie stars himself as an over-the-top, slightly delusional and all round desperate lead singer of the fictional Bellville-based rock band Stone Cold Jane Austen.
This hilarious look at the SA rock music industry also stars Rob Van Vurren as the bass guitarist of the band, Jack Parow, Fokofpolisiekar, Die Heuwels Fantasties, Aking, Chris Chameleon, Blk Jks and many more stars. It features cameo's from characters such as Randall Abrahams (Idols), Kahn Morbee  (Parlotones) and even a scene with 90's international pop star, Daniel Beddingfield (buck-naked!).
However, they need help to finish the film.
"When Leon Schuster watched the pilot, he loved it. He said to me, "people HAVE to see this film! You have got to get this made," says Savage. "That was a pivotal point for me as he was one of the first people to actually see it. And I've spent the last year getting it to this point." Instead of using traditional financing models, Savage has decided to try the new crowd-sourcing method of financing to see if he can get the last half of the film made!
"The internet has changed the whole industry, both music and film. The gatekeepers have changed. The power is in the hands of the fans and the people who want to see cool stuff ie. Music fans! It's a revolution."  Savage says that he hopes that people will support the project because fans of rock music really need to see this film.
– To help get this film made, go to http://www.stonecoldmovie.com
– Everything you need to know is at the indiegogo site above.