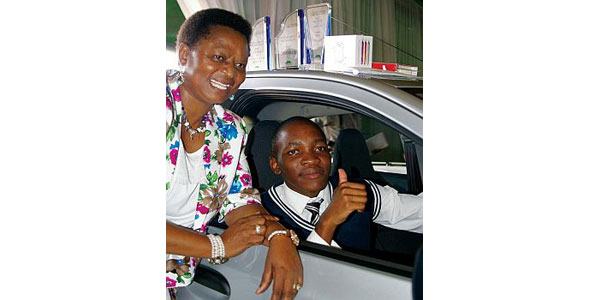 Middelburg – Mpumalanga's top matric pupil has been given a brand new car for his efforts.
Calvin Mawere, 17, of Bushbuckridge High School, who is also ranked among the top 10 achievers nationwide, got distinctions for all eight of his subjects.
"I am overwhelmed and can't think straight at the moment," he said on Thursday after receiving the keys to a Toyota Etios 1.5 XI from Toyota's national sales manager, Kenneth Braye.
"I really can't believe I have won a car. I feel like I am dreaming and this will probably take some time to sink in."
He will only legally be able to drive it after June when he turns 18, however. Besides the car, Calvin also received a fridge, microwave, two laptops, an iPad, smartphone, tablet computer, a travel bag and a Russel Hobbs clothing iron, amongst others.
He said failing Grade 12 was not an option for him because his parents were by his side throughout his days of preparing for the exams.
His father, Effet Mawere, was also his Physical Science teacher at school.
"So it would have been … disappointing for me to fail his subject. My mother also studies accounting through correspondence with the University of South Africa, so she helped me a lot through my studies," he said.
Calvin received eight distinctions for Sepedi, Accounting, Physical Science, Agricultural Science, Life Orientation, English, Life Sciences and Mathematics.
He plans to study medicine at Wits University this year.
"I have already been offered and promised a number of bursaries by a number of companies, but I will decide which one to take after consulting my parents," he said.
Other pupils who made it through to Mpumalanga's Top 10 Matrics include Michelle Janse van Rensburg from Hoerskool Ermelo; Vicky Tressal and Johan Erasmus from Hoer Tegniese Skool Middelburg; Eric Moloko from Mphanama Secondary School in Mhluzi, Middelburg; Siyabonga Ntuli from Allendale Secondary School; Hendrik Botha from Hoerskool Piet Retief; Edward Engelbrecht from Hoerskool Secunda; Frans Sipho from Hlabangamehlo Secondary School and Wandile Manana from Amadlelo-aluhlaza Secondary School.
The Top Ten Matrics received bursaries from different companies and institutions. They also received laptops, travelling bags and cell phones, amongst others. – SAnews.gov.za