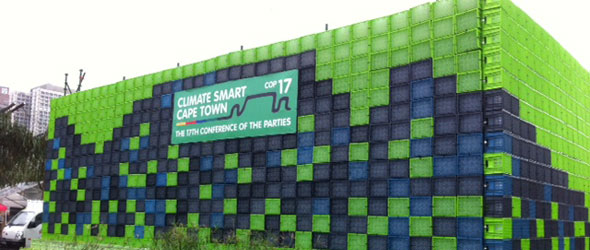 Durban – If you are looking for innovations in energy efficiency, the Climate Change Response Expo has got it.
South African technologies and those from around the world supporting the shift to a climate resilient future have been put on display since Monday and will be there for the duration of COP17.
In the Quinine tree marquee, South African start-up BENBEN gives product demonstrations on solar powered street lights that are currently being piloted in several municipalities.
Their BENBEN Power generator produces 220V AC power and is suitable for lighting, television and charging cell phones. It can be powered from a 12V solar panel or by hand cranking, and 15 minutes of cranking provides up to three hours of electricity.
The BENBEN Eco Geezer provides hot water on demand without the need for a storage tank or heating element, saving up to 80 percent on electricity costs compared to traditional hot water geysers.
The City of Cape Town exhibit, which can be found in an interesting plastic crate structure, runs completely on solar and wind-powered energy.
"We've got a hand-held LCD screen here so we can read at any time how much power we are drawing, and what we're putting back into Durban," said Stephen Lamb, Director of Touching the Earth Lightly.
The Swiss stand promotes an extremely relevant vertical shaft brick kiln (VSBK) technology that is energy efficient and cost effective.
Firing bricks is an energy intensive process that typically results in high greenhouse gas emissions. The VSBK technology is said to reduce CO2 emissions by 50-60 percent compared to conventional firing techniques and reduces particulate emissions by up to 90 percent.
The open source VSBK technology facilitates access to green funds and the CDM market, and the Swiss have provided technical support for a pilot plant in Jeffrey's Bay in the Eastern Cape.
Even though South Africa has to wait until 2015 for the Joule, an electric automobile, interest has been rife in the vehicle.
"Due to no spark plugs and no mechanical moving parts in the engine, the maintenance and longevity of an electric vehicle far outperforms today's combustion engines, only requiring a service every 45 000kms," said Jaco van Loggerenberg, Communications Manager of Optimal Energy.
It comes as no surprise that Japan's stand is filled with technologies, from state-of-the art energy saving heat pumps to innovative steam traps used to reduce CO2 emissions from oil refinery processes.
Upcoming events around energy efficiency at the CCR Expo this week:
30 November – Energy policy seminar
1 December, 15.30- 16.30 – Transport, fuel efficiency and biofuels
1 December, 19.00-21.00 – Bridging the gap on energy efficiency and EE information system gala dinner
2 December, 14.30-16.30 – Clean energy financing seminar
3 December, 9.00-11.00 – Access to energy seminar
4 December, Inauguration of the COP17/CMP7 solar flagship plant