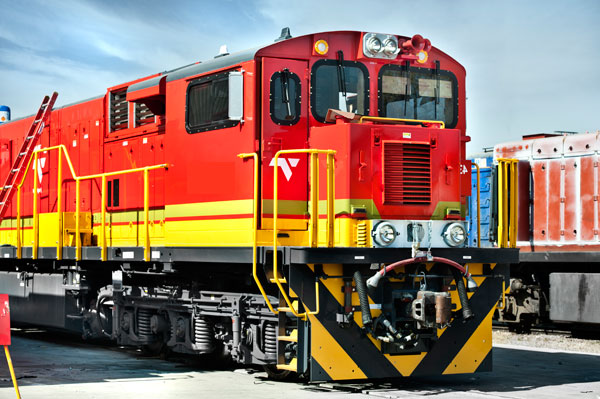 In a big move to revitalise South Africa's rail system, Transnet has awarded a R50 billion contract for the building of 1 064 modern and technologically advanced locomotives.
On Monday, Transnet Group Chief Executive Brian Molefe announced four original global equipment manufactures, including Chinese company CSR Zhuzhou Electric Locomotive and Bombardier South Africa, which will supply 599 electric locomotives.
The other two companies, which will build and supply 465 diesel locomotives, are General Electric South Africa Technologies and CNR Rolling Stock South Africa.
The multi-billion rand acquisition is South Africa's single biggest infrastructure investment initiative by a corporate.
Bombardier is the company that was award a contract by the Gauteng provincial government to provide the 80-km rapid rail transit system, the Gautrain, which connects Johannesburg, Tshwane and the OR Tambo International Airport.
"This marks a significant milestone in the company's history, together with substantial socio-economic benefits for South Africa. The drive to modernise our fleet is intended to improve reliability and availability of locomotives.
"This will improve customer satisfaction, ultimately leading to our crucial goal road-to-rail migration of cargo in line with government's objective," he said.
According to Molefe, this has a stringent local content component, which includes skills development and training commitments, as dictated by the supplier development programme. The initiative, which is led by Public Enterprises Minister Malusi Gigaba, is aimed at localising the production of machinery and equipment.
Molefe said all the locomotives, except 70, will be built at Transnet Engineering's plants in Koedoespoort, Pretoria and Durban.
Transnet Engineering's role in the agreement has been defined to ensure that it is transformed into a global original equipment manufacturer over time. It will also take 16% of the total build programme, about a third of which will be outsourced to local emerging engineering and manufacturing firms.
Good news for jobs and the economy
In total, Molefe said the localisation elements are expected to contribute over R90 billion to the economy.
"We are going to create and preserve approximately 30 000 jobs. This transaction is intended to transform the South African rail industry by growing existing small businesses and creating new ones," he said.
According to the Transnet boss, the suppliers have complied with and exceeded the minimum local content criteria for rolling stock of 60% for electric locomotives and 55% for diesel locomotives.
"Once all these locomotives are delivered in 15 months' time or earlier, Transnet would have met all its rolling stock requirements needed to successfully execute the Market Demand Strategy, our record-breaking R307-billion infrastructure investment programme.
"In terms of the agreements signed with the successful bidders, the last locomotive will roll off the production line within three and a half years. At the programmes peak, we will be producing 480 locomotives per year at 48 per month," he said.
Molefe said the ability to stick to an extremely tight delivery schedule was one of the key considerations in assessment of the bids. The majority of the locomotives will be deployed to Transnet Freight Rail's general freight business (GFB).
Bombardier corporate director Denis Desautels said: "We support the paradigm shift from roads to rail and we are looking forward to contributing to the creation of jobs and skills through this partnership." – SAnews.gov.za