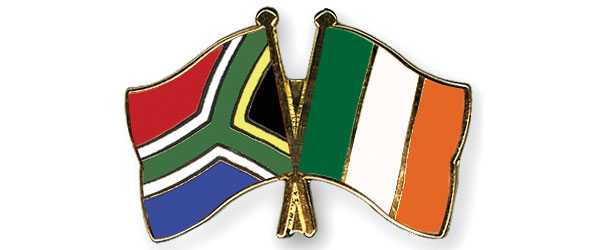 Cape Town – Ireland is emerging from its economic slump and views Africa as a continent that will become an economic giant in years to come, says Joe Costello TD, Minister of State for Trade and Development in Ireland.
Speaking at a joint media briefing on Thursday with South Africa's Deputy Minister of International Relations and Cooperation, Marius Fransman, Costello said his country regarded South Africa as the gateway to Africa.
The two officials were earlier engaged in talks under the auspices of the South African-Ireland Partnership Forum, which was established in 2004 as a bilateral mechanism meant to stimulate meaningful cooperation between the two countries.
Fransman said South Africa believed its partnership with Ireland should be to the advantage of itself, the Southern African Development Community, as well as Africa.
South Africa, he said, would engage Ireland on energy and climate change, a phenomenon that would no doubt impact agriculture in Africa.
Earlier this week, Ireland gained a seat on the United Nations Human Rights Council.
"We will reflect with Ireland on some of the difficult challenges facing the world. Your seat will advance the interest of human rights in the world," said Fransman.
South Africa also congratulated Ireland on its imminent assumption of European Union (EU) presidency next January, a role which Costello said Ireland was prepared for.
"The priority for Ireland would be to focus on EU growth and expansion. We would be shifting the present focus of the EU and it will be good for Europe, South Africa and Africa."
Ireland wanted to improve economic, investment and social ties with South Africa, said Costello, who is leading the largest ever Irish trade mission – a group of 57 business leaders – to South Africa.
He said that the overall Irish economic investment in South Africa was substantial. Presently, 180 Irish companies were doing business in South Africa. Last year 25 000 Irish tourists arrived in South Africa.
"Yesterday I announced a R500 million investment by an Irish company in wind and solar farms, as well as an investment in Vodacom. We want to see investment as a two-way process," said Costello.
The two ministers agreed that the triple challenges of poverty, inequality and unemployment remained acute in South Africa. They were concerned about the food crisis in Lesotho and its potential to cause a humanitarian crisis. They committed themselves to assist Lesotho to ease its food crisis.
Yesterday's meeting also supported the government's five development priorities of health, education, rural development, fighting crime and job creation.
Ireland will also assist South Africa with a skills development programme, which will include the establishment of a fellowship programme to assist South Africans who want to do post-graduate studies in Ireland. – SAnews.gov.za