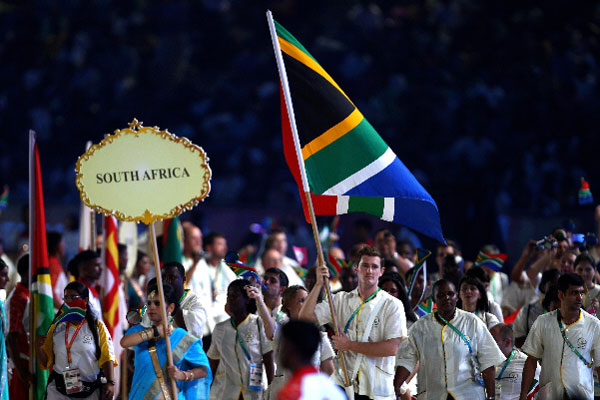 The South African Sports Confederation and Olympic Committee (SASCOC) says it wants Team SA to scoop no less that 43 medals at this year's Commonwealth Games in Glasgow, Scotland.
Speaking at the announcement of the initial squad of 155 of the country's finest athletes spreading over 15 codes, the Olympic body's President, Gideon Sam, said the committee wanted South Africa to be placed within the top five on the medals table.
"We are not on the same level with Australia yet, one down, we are not at the level of Canada, two down, we battle with England, three down, therefore, we will be contesting for the fifth spot with India and the home team, Scotland.
"In terms of our projection, we are saying if we put on the table 15 gold medals, 12 silver medals and 16 bronze and that will take us to 43 medals, that's what we are going for now," said Sam.
At the previous Commonwealth Games in New Delhi, India, four years ago, Team SA won 33 medals and achieved fifth spot on the medals table with 12 gold, 11 silver and 10 bronze medals having been won.
"The majority of the team are within the top five rankings of the Commonwealth and that is very reassuring for use," said Sam.
He said this also gave him confidence that there would be a really good team at the next Olympics in Rio de Janeiro, Brazil, in 2016.
"Glasgow is going to be tough but also great fun, our athletes will gain tremendously from these Games and, judging by the teams already announced by both Australia and Canada, it is not going to be a walk in the park for any country," he said.
Sporting codes that Team SA will contest at the Games include aquatics (including para-swimming), athletics (including para-athletics), badminton, boxing, cycling, gymnastics, hockey, judo, lawn bowls, netball, para-powerlifting, rugby sevens, shooting, triathlon, weightlifting and wrestling.
While the team announced by Sam accommodated promising juniors, he surprised many by leaving out Caster Semenya.
Bryan Habana is part of the rugby sevens team.
The swimming squad includes Roland Schoeman a veteran of four Olympic Games and 2012 Olympic gold medalists Cameron van der Burgh and Chad le Clos.
Track and field includes 2006 and 2010 Commonwealth Games 400-metres hurdles medalist LJ van Zyl and sprinter Simon Magakwe who earlier this year set a South African 100m record of 9.98 seconds.
The men's and women's hockey squads are expected to be announced at a later date.
According to Sam, the incentive for Team SA squad member is R40 000 for a gold medal, R20 000 for a silver medal and bronze is R7 500. With regards to coaching staff, he said, a gold medal was worth R10 000, silver R5 000 and bronze R2 500.
Participating nations
The 2014 Commonwealth Games will be held in Glasgow, North Lanarkshire, South Lanarkshire and Angus, Scotland, United Kingdom over 11 days from 23 July to 3 August.
The final decision on the host city of the Games was held in Colombo, Sri Lanka on 9 November 2007 at the Commonwealth Games Federation General Assembly.
There will be 70 participating nations at the 2014 Commonwealth Games since Gambia announced that it would not be taking part in the games last year in October.