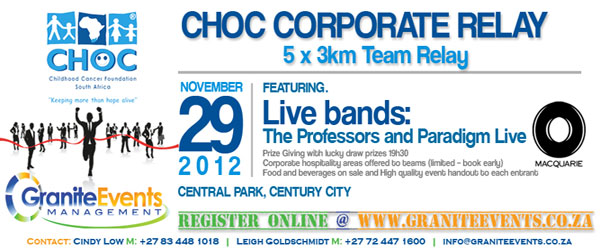 Corporates are being encouraged to lace up and show their support for the CHOC Corporate Relay, which takes place from Central Park, Century City on Thursday 29 November at 17h30.
The event consists of five runners per team with each one completing a 3km lap around the scenic Intaka Island wetlands area in Century City.  Runners can enter their teams online at www.graniteevents.co.za.  Entries close on Tuesday 20 November or as soon as 400 team entries are received.
CHOC Childhood Cancer Foundation SA is the primary beneficiary of this event and corporates are encouraged to support their fundraising initiatives.  Financial services company Macquarie Group is the first to get behind the event through offering sponsorship, as well as entering teams to take part.
CHOC provides holistic support for children suffering from cancer and life threatening blood disorders, as well as offering much needed support for their families.  All funds raised are used to provide direct practical help for the children, their families and those involved in the treatment.  CHOC does not receive funding from the government, but relies heavily on donations from corporates, individuals and parents of children with cancer.  Visit www.choc.org.za for further details or contact 086 110 6441 or wcape@choc.org.za.
Teams will need to register and collect their numbers from Central Park on race day from 11h00 to 16h00 and are encouraged to dress up, as prizes will be awarded for the best team costumes.
The event promises to deliver a great team building opportunity for companies with corporate hospitality areas and live bands The Professors and Paradigm Live.
CHOC Corporate Relay for November is a post from: Time-to-Run Cape Town