A historical investigation into the Sea Point beachfront as a public open space throughout the 20th century with special reference to memories of growing up along the Sea Point Promenade by Leila Emdon.
Chapter Two continued – The growth of a suburb: the Development of Sea Point in the late 19th century to the 1950s
<< previous Old Hotels, Estates of the Beach Rd and Main Rd Area
Growing up in Sea Point 1930s-1950s
All those I interviewed had a different experience of Sea Point. Joe Maureberger describes how: "There many children and the schools were packed, so there was no lack of friends."17 The suburb was growing and many schools, churches and synagogues were opening. Sheila describes how: "Before the exodus of some families Sea Point was teaming with happy children. Schools and churches were packed, providing social activities as well as learning."18 There were two large high schools, namely Ellerslie Girls High and Sea Point Boys High.
Sheila Vaughan grew up very close to the beachfront. "We lived in a lovely old fashioned, large Victorian house with a high veranda halfway around it. The house is near to the bottom of Rockland's Road and looks rather stately these days with another story added to it which has copied the ground level floor and veranda."19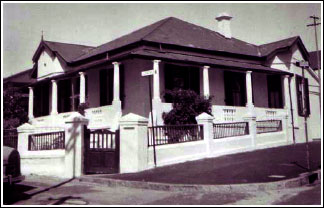 House where Sheila Vaughan grew up Photo: Sheila Vaughn ©
"It was the perfect family home, although I was only two and the only child so far. Today it would not be considered the perfect the family home, because the one and only toilet was outside in the back which the norm then. The hot water geyser was a wood burning one and every time you needed to bath you first had to make a fire in it."
17 Joe Maureberger, 31st August 2008, recorded interview 18 Sheila Vaughan, July 2008, written testimony 19Sheila Vaughan, July 2008, written testimony 20 "Our house was homely, lovely and spacious and I learnt to love it. We were three children by now, each had our own room, and there were plenty of places to run around with our friends. The veranda was three quarters way around the house where there was also lots of place to play or sit and take in the winter sunshine."20 Her brother Daniel Vaughn remembers "The sidewalks for an early evening stroll, to see and be seen. The lawns were a place, like today, for children and dogs to play. Our gardens were small and our streets narrow, but we had the lawns, and the wide Atlantic before us. Sea Point was a good place for children."21
<< previous Old Hotels, Estates of the Beach Rd and Main Rd Area —- A Peaceful Suburb next >>