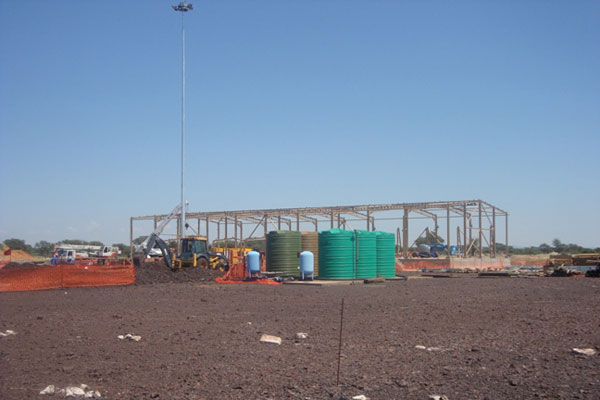 Hotazel – President Jacob Zuma says many of the infrastructure projects coordinated under the Presidential Infrastructure Coordinating Commission have been completed or are nearing completion.
"I have travelled around the country, officially handing over these massive capital projects to the community," said Zuma on Friday.
The National Infrastructure Plan was announced in the 2012 State of the Nation Address. A key feature of the plan is the coordination of the infrastructure build programme centrally located in the Presidency, through the Presidential Infrastructure Coordinating Commission, (PICC), chaired by the President.
Zuma was speaking at the official opening of the Kalagadi Manganese Mine, an underground mine that boasts the largest manganese sinter plant in the world, and the first such mine to be owned by a woman.
The mine includes a beneficiation facility expected to beneficiate up to three million tonnes of manganese a year.
Zuma commended the mine for providing infrastructure that will benefit local communities and boost economic growth in the province.
"I am encouraged to learn that part of the infrastructure that is in this place, such as electrical infrastructure, will make it easier for government to roll out services to the neighbouring communities."
The supporting infrastructure provided by the mine includes the redevelopment of 9.6km of provincial road and bridge, a new reservoir to store 17 million litres of water, a 40 MVA electricity substation, and a 23km railway line and loop linking to the main Transnet line in Port Elizabeth.
"Through this project, the province of the Northern Cape has seen a capital injection of about  R6.5 billion, within a space of four years, with at least  3 000 direct jobs created and skills being developed among the local youth," Zuma said.
Executive Chairperson of Kalagadi Manganese, Daphne Mashile-Nkosi, pledged that none of the mine's ore will be exported without an element of beneficiation. "Not an ounce will be exported raw."
She added that the final phase of the mine will be the construction of a smelter plant in the Coega Industrial Development Zone at a cost of R6 billion.
Susan Shabangu Minister of Mineral Resources praised Kalagadi mine for its perfect safety record. "You have been in operation for four years, but there has been no fatality."
Shabangu called on other mines to emulate the health and safety record of Kalagadi and said those mines that were not willing to transform must leave. "Transformation is not a choice. The regulator is here to act if people are not doing the right thing."
Zuma said the minerals that were abundant in the Northern Cape must be used to unlock the economic potential of the province.
"The possibilities created by the discovery of shale gas in the Karoo, of which the Northern Cape forms part, provide yet another opportunity to grow and develop the economy of this province. We are extremely excited about the prospect, because as government we consider hydraulic fracturing for shale gas a 'game-change' opportunity for the Karoo region and for our economy at large."
Zuma said government was mindful of the concerns that had been raised about the environmental impact of fracking and promised that government would consult with local communities before taking decisions. – SAnews.gov.za