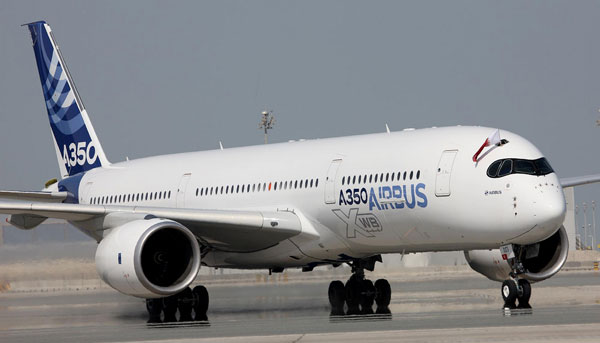 The Airbus A350XWB – which is on a world tour — landed in South Africa at the weekend, where it carried out crucial high airfield performance and auto-landing trials at OR Tambo International Airport.
The A350XWB, which carries 369 passengers, is the latest generation and newest long-haul jetliner by the European aircraft manufacturer to enter the market. It is the only all-new family of aircraft in the 300 – 400-seat category.
"The test flight at OR Tambo International Airport is symbolic of South Africa's aerospace ambitions and hi-tech industrial strategy, and also supports government's latest Industrial Policy Action Plan, which identifies aerospace as a strategic sector for development," said the Airports Company South Africa (Acsa) CEO, Bongani Maseko.
Head of corporate affairs for Acsa at OR Tambo, Unathi Batyashe-Fillis, said she was pleased that the airport was chosen to host the aircraft.
"We are pleased to be selected as the first airport on the continent to host the latest addition to the Airbus family. The decision by Airbus to run test flights of their new jetliner at our facilities is testimony to the confidence the company has shown in our infrastructure and our capability as an airport management authority.
"Such flights are used to test compatibility of the aircraft with existing airport and air traffic management infrastructure, systems and processes," she said.
Five prototypes of this all-new aircraft have been built and are currently engaged in an intensive and comprehensive flight test and certification programme.
During its visit to OR Tambo International Airport, the Airbus A350XWB performed several instrument landing approaches and auto-landings. OR Tambo International is widely renowned as one of the most challenging airfields to navigate because of its high altitude and relatively high temperatures.
One of the innovative features of the new aircraft is the all-new Carbon Fibre Reinforced Plastic (CFRP) fuselage which results in lower fuel consumption and easier maintenance. The fuel consumption will be 25% lower compared to existing aircraft of similar size.
The A350XWB represents the increasingly closer collaboration between Airbus and its South African suppliers. Airbus collaborates with South Africa's research and technology community and has launched and funded numerous research initiatives in cooperation with the Department of Trade and Industry's National Aerospace Centre and the Department of Science & Technology, the Council of Scientific and Industrial Research (CSIR), various universities and specialised laboratories.
"Every A350XWB has a direct positive impact on South African workers, the country's skills base and its development in addition to growing South African exports of high-value manufactured goods.
"The aircraft's wing and fuselage components are manufactured by Aerosud in Centurion while Cobham South Africa in Westlake, near Cape Town, manufactures satellite communication equipment for the A350XWB," said Acsa.
The A350 is expected to depart to Sydney, Australia today.
The A350 XWB World Tour began on 24 July and involves a series of tests on four different trips. It will visit 14 airports around the world and will end on 13 August. – SAnews.gov.za