A historical investigation into the Sea Point beachfront as a public open space throughout the 20th century with special reference to memories of growing up along the Sea Point Promenade by Leila Emdon.
Chapter Two continued – The growth of a suburb: the Development of Sea Point in the late 19th century to the 1950s
<< previous - Availability of public transport
Old Hotels, Estates of the Beach Road and Main Road Area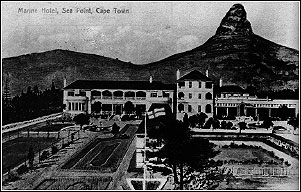 The Marine Hotel Sea Point Photo: The Lion Mountain ©
In the 1930s, many of the larger houses that had lined the Beach Road were either demolished or converted into hotels. There was the Milroy at the foot of Fort Road near Three Anchor Bay Road. For a while, it housed the Cape Town YMCA but then reverted to a hotel, popular for its Saturday night dances. The Atlantic was also on the Beach Road, on the corner of Rocklands Road. Both boasted tea gardens with lawns that reached down to the low walls that separated them from the Beach Road. There was the Rocklands Hotel on the corner of St James Road. Milton Manor on the Beach Road near Milton Pool was a popular holiday hotel.
There were relatively few blocks of flats in Sea Point then. Most of those we know today were built after WW2 in the 1950s and 1960s, the boom slowing somewhat towards the latter years of the last century and reviving again in recent years, in the post Waterfront era.11
The Town Planning scheme, instituted in 1941, encouraged the development of a band of high-rise structures along the beachfront. The purpose of this was to create a desired image of an impressive array of modern multi story residential buildings along the coast, as in Rio de Janeiro. At night, it would project "a waterland image with their sparkling lights." This resulted in the high rise, high density environment existing in Sea Point today"12. Much of the development that did take place exhibited a late Victorian style. An example of this was the famous Bordeaux Estate.
Today it is a large square block of flats but its history goes back to 1865 when Pieter Marais bought the site. The Sea Point property extended from the Main road to the Beach Road. Peter Marais was prominent member of the community. His wife suffered with bad health so her husband arranged for an approach to be made from the front gates of Bordeaux, leading down to a small pond in the rocks below Bordeaux. Such stones that could be removed were carted away and during the hot weather, the 'invalid' was wheeled down to have her seawater bath. Such was the origin of what was later known as "Graafs Pool". 13 Graaf's Pool has its own interesting history that will be discussed in a later chapter.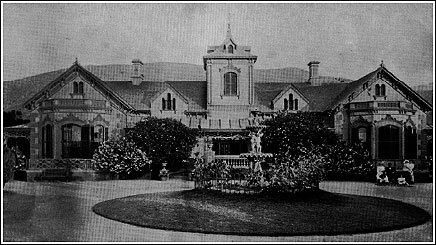 The first Bordeaux, home of Peter Marais Photo: Under Lions Head ©
In 1893, the Graafs bought it and a second story was added to the house and now "became one of the most arresting edifices on the Sea Point Beach Road."14 These grand hotels were a large part of the social scene amongst Sea Point residents. The hotels became a place where young mothers in particular could meet. Rosemary describes the scene along the beachfront: "In the old days there were adorable little houses along the beach front in-between the hotels, they had beautiful houses and picket fences. The Bordeaux Hotel had an amazing tea garden; all the young mommy's would order tea."15 Sonia Kirsch also reminisces about the old hotels: "a lot of the flats are named after the hotels that stood there before. Those hotels were converted into huge blocks of flats, so the beachfront became like a concrete jungle. At Bordeaux, they had lovely dancehalls and restaurants. My friends and I used to take our toddlers down to let them play."16
Bordeaux, home of the Graafs Photo: Under Lions Head ©
11Daniel Vaughan, 11 October 2008, interview via e-mail, 12M, Sindler, 1994, An Investigation into the Attitudes and Perceptions of Residents Towards Sea Point as an Attractive Area to Live in, Marketing technical report for the University of Cape Town thesis collection, pg 6 13 M, Murray, "Old houses and Village characters" Under Lions Head, pg 132 14 ibid 15 Rosemary Magid, 10 October 2008, Recorded interview 16 Sonia Kirsch, 20th September 2008, Recorded interview
<< previous - Availability of public transport ---- Growing up in Sea Point. 1930s-1950s next >>